In Brazil, the automobile constructor Volkswagen recently collaborated with the agency AlmapBBDO to create a magazine ad that is able to offer a Wi-Fi connection to its readers!


In order to promote its new car model Amarok, Volkswagen decided to create a smart and innovative ad that would reflect the technological aspect of its new car. Indeed, ATV cars are well-known for their power on the roads but sometimes consumers forget they can also offer very advanced technological solutions.
How does it work?
A 3G chip is installed in the magazine and offers 500Mo to use anywhere you need.  Every time the magazine is open on the Volkswagen ad page, the hidden integrated router turns on automatically. First, a red light appears, indicating that the system is starting, and when the light turns blue, the Wi-Fi connection is available. The connection was made possible thanks to the operator Vivo.
Users can connect their devices to the "Amarok" Wi-Fi using the password "The power of intelligence", which is also the name of the campaign. The connection stops every time the reader closes the magazine ad page.
This is a very interesting eye-catching way to show consumers that the new Amarok is also integrated with the most innovative high-end technology. The interactive approach of Volkswagen reminds us of the fact that Amorak is a unique car which offers cutting edge technology to consumers; if a magazine ad fearing the car has the power to connect consumers to Wi-Fi, imagine what the car itself can offer!
However, this is not the first time a brand has utilized this technology to make a Wi-Fi connection available through a magazine ad; Microsoft first introduced this idea with a Wi-Fi ad that was featured in Forbes magazine. Read more here.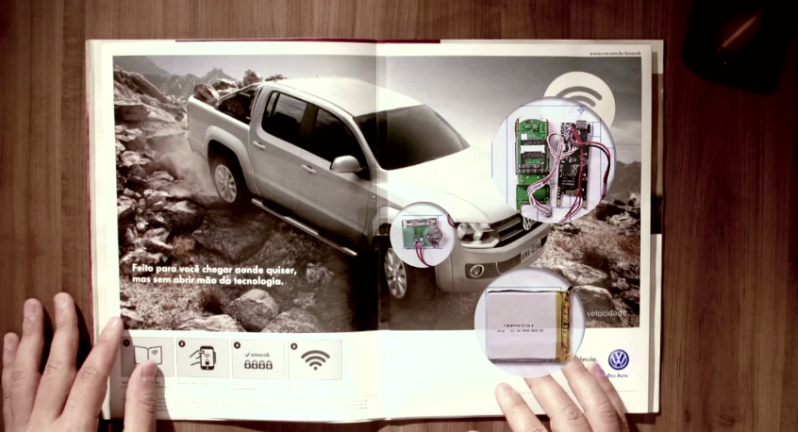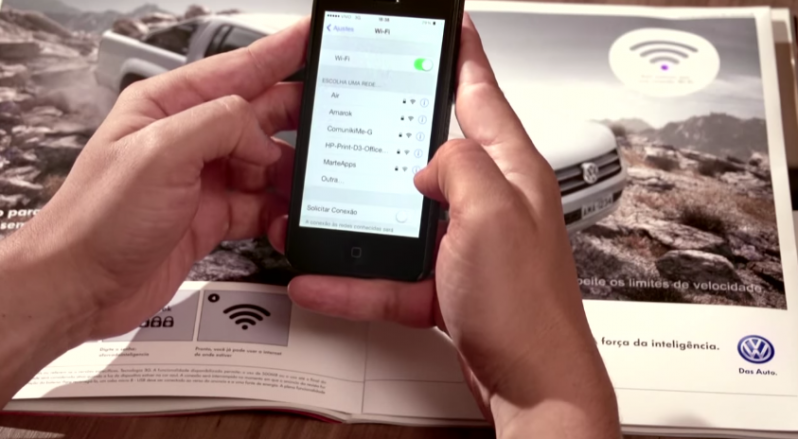 References: Creapills, La Criatura Creativa
Pictures from: Creapills, Piwee