Reuters Events Launches Strategic Marketing USA
Brands have a profound impact on society and culture.
The movements we champion, the people we promote, and the campaigns we launch – all influence the perceptions of humans around the world.
Consumers recognize our influential power and have become more interested in the values we stand for than the products themselves. So, how can you follow their lead, move beyond marketing, and create real communities passionate about your brand purpose?
Strategic Marketing USA (Nov 5-6, Virtual Forum) is uniting the world's most influential CMOs to discuss the impact of brands on society, challenge what it means to be a brand and map a new future for marketing – one where brands are purpose-driven, campaigns are intelligently data-backed, and innovation drives growth.
Reuters Events are bringing together a forum of marketing's foremost experts including:
Penny Baldwin, Chief Marketing Officer, Qualcomm
Paul Chibe, Chief Executive Officer, US, Ferrero
Brad Hiranaga, Chief Brand Officer, General Mills
Evan Jones, Chief Marketing Officer, Fender
Ira Rubenstein, Chief Digital and Marketing Officer,PBS
Martha Boudreau, Chief Communications and Marketing Officer, AARP
Carol Tran, Head of Growth, Dolby
Across both days, the world's most influential CMOs and marketing leaders will share presentations and join interactive discussions on the topics they have highlighted as imperative to success in the current climate. Here are the crucial topics
CMO Strategy & Trends for a Post-Covid World: CMOs share their plans for keeping brand relevancy in an ever-changing world, honing brand purpose, reinventing a legacy, challenging the impact of brands on society, and creating a culture of innovation.
Customer Insights & Understanding New Consumer Behavior: Customer needs, wants and expectations have changed. It's time to fully understand your customer and their journey to unlock data-driven personalized experiences.
Agile Content & Creative: Cut through the noise with impactful interactions that inspire and connect with this shared global experience. Tell stories that engage on an emotional level and are grounded in brand purpose.
Digital, Social & Influencers: As we follow social-distancing guidelines, the channel of choice for many is social and influencers are at their most impactful. Video, influencers and the formula for social success.
With planning well underway for the next decade, it has never been more important to plot ways to build deeper, more meaningful relationships with customers. Join Reuters Events Strategic Marketing now and secure your place with the global marketing community.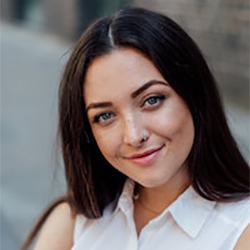 About the Author
Jasmine is the Event Director for Strategic Marketing USA.