On July 1st, Monster.com announced the launch of two new social recruiting services, TalentBin® by Monster and Monster® Twitter Cards, as well as a new communications platform called Monster Talent CRM. To mark these major changes in its services, Monster unveiled a new brand identity, in accordance with its renewed mission of connecting people and jobs everywhere.
1) The new services offered by Monster:
"Monster fundamentally altered the way jobs and candidates connect, and today we are launching several new products that will give recruiters new ways to connect with the talent they are looking for now," said Sal Iannuzzi, chairman, president and chief executive officer of Monster Worldwide.
TalentBin by Monster:
This service aims to become the world's largest passive candidate database, by harnessing the vast amount of professionally relevant information that people share across the social media platforms. With this service, companies can find candidates where they live online based on their real interests and actions. Click here for more information. 
Monster Twitter Cards
These automated job offer tweets appear on an employer's Twitter page, in the form of "Twitter Cards" that include their logo or an image of their choice, a job title, the company name, a brief description as well as a link to their Monster job ad. As an option, salary and location information can also be included. Click here for more information. 
Monster Talent CRM
With Monster Talent CRM, employers can launch an email campaign with custom messages to job seekers. The service allows them to search and correspond with top talent from Monster's expansive talent database. Click here for more information.
2) The New Brand Strategy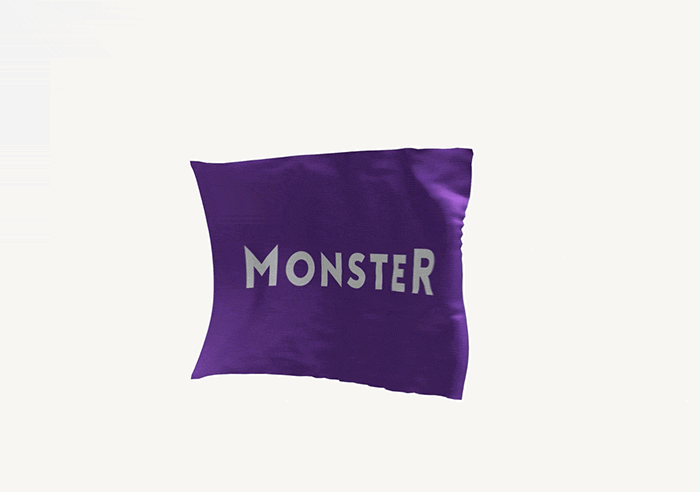 In order to promote Monster's new expanded ability to connect employers and candidates together, the company wanted to refresh its brand identity along with the concept of "Find Better".
The challenge:
Monster, the pioneer in online job and recruiting business wanted to rebuild their business model in order to elevate the company beyond their reputation as "the word's largest job board". The business indeed possesses a vast portfolio of offerings, web properties and a specific approach to sales and customer relationships.
The strategy:
The leading employment website hired global strategic branding firm Siegel+Gale to achieve this goal. Together, they designed a refreshed brand identity and developed a new brand strategy for the company
The rebranding of Monster begins with a new brand promise: the powerful idea of "Find Better". The strategy consists in focusing on the word "better" more than on act of "searching". Monster's main goal is to empower people to strive for improving their lives through work.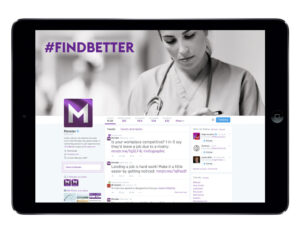 The company's new vision has been built on the brand promise and is about "connecting the world's jobs to people everywhere".
"The product portfolio was thousands upon thousands of products with every possible feature and add-on being a discrete offering", explained Daniel Katz Golden,  Strategy Director at Siegel+Gale.


"No one in the company truly understood everything that Monster sold and was ultimately hindering the relationship between Monster and their employer customers which had become extremely transactional.  The conversation between Monster's sales force and their customers became 'what can I do to put you in a job posting today?' instead of setting up the consultative approach that was required of their new business model".
Siegel+Gale rebuilt Monster's brand architecture to focus on their three core capabilities: Reach, Connections and Solutions.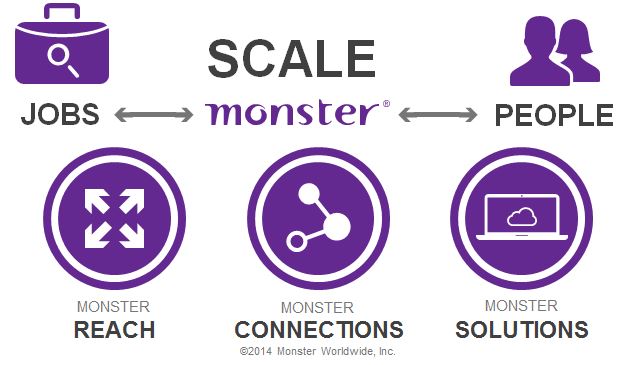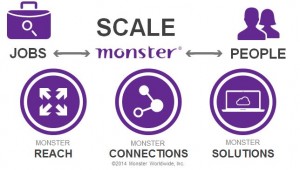 The branding firm radically simplified Monster's product portfolio and came up with an entirely new visual identity that brought the company's B2B and B2C businesses more in line. Siegel+Gale used the brand architecture to refocus the conversation around capabilities instead of individual offerings, and radically simplified Monster's product architecture so that the brand  moved from selling thousands of different product and services to a new product and services list of less than 100.
Branding firm Siegel+Gale came up with a new logo and visual identity that refreshes the brand and distinguishes Monster from its competitors. The new logo represents a flag, which is the symbol of the individual achievement of finding better:
"The purple flag is unique to Monster in a space that is populated by very cold identities, the flag adds warmth and humanity and is unique as no country in the world uses a purple flag", explains the branding firm. "The purple color historically used to come from sea snails making it very hard to come by, and as such, only royals used this color. The flag and the visual identity will inform and inspire Monster's new suite of products".


The new typography used for the logo presents bold letters and uppercases which highlight the idea of strength and determination. The brand name comes along with the new brand motto, "Find Better", which reaffirms the new brand positioning in the workplace market.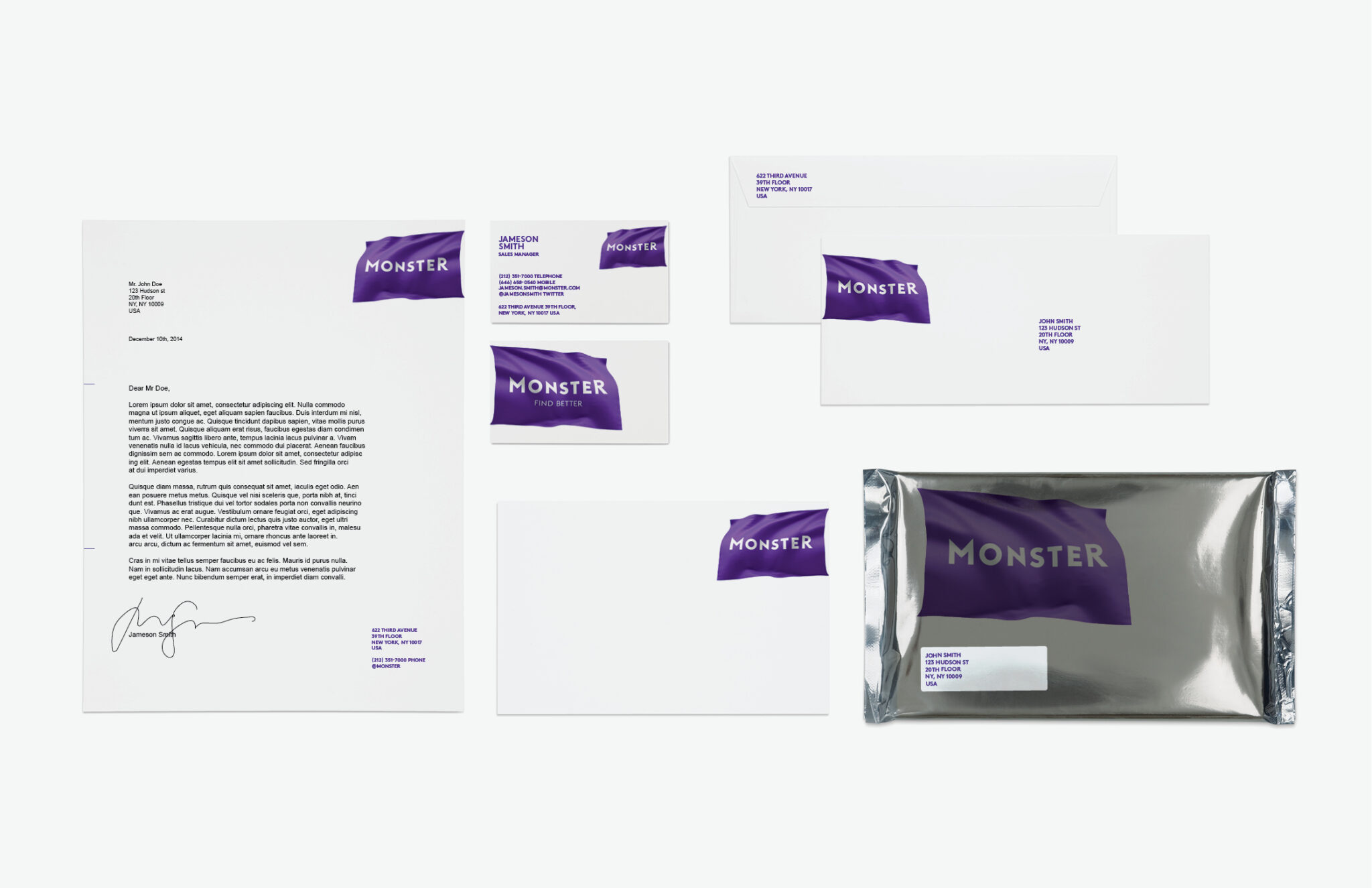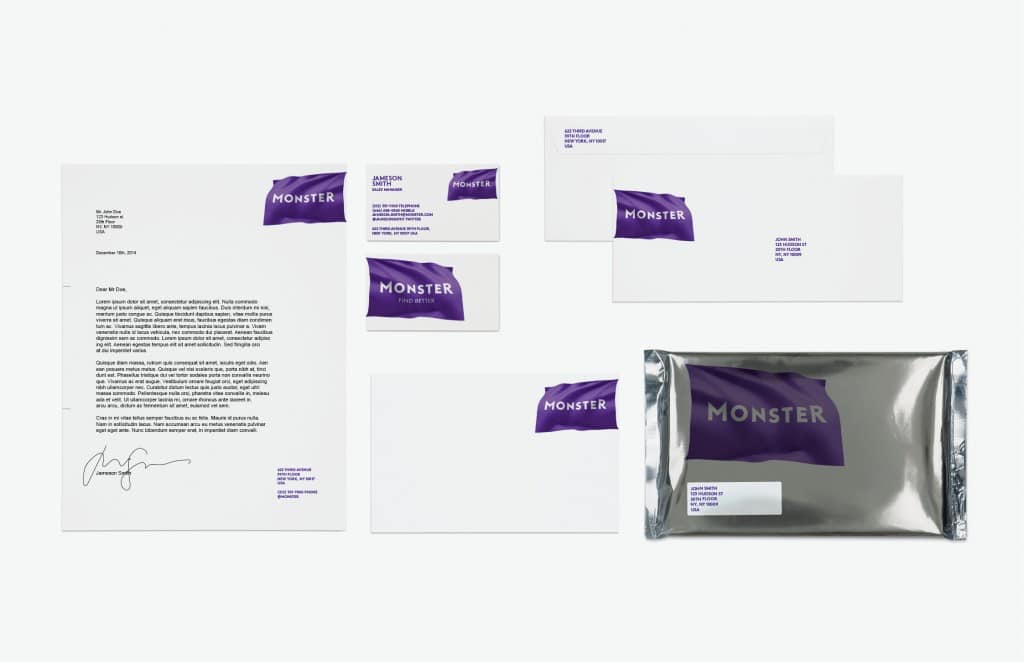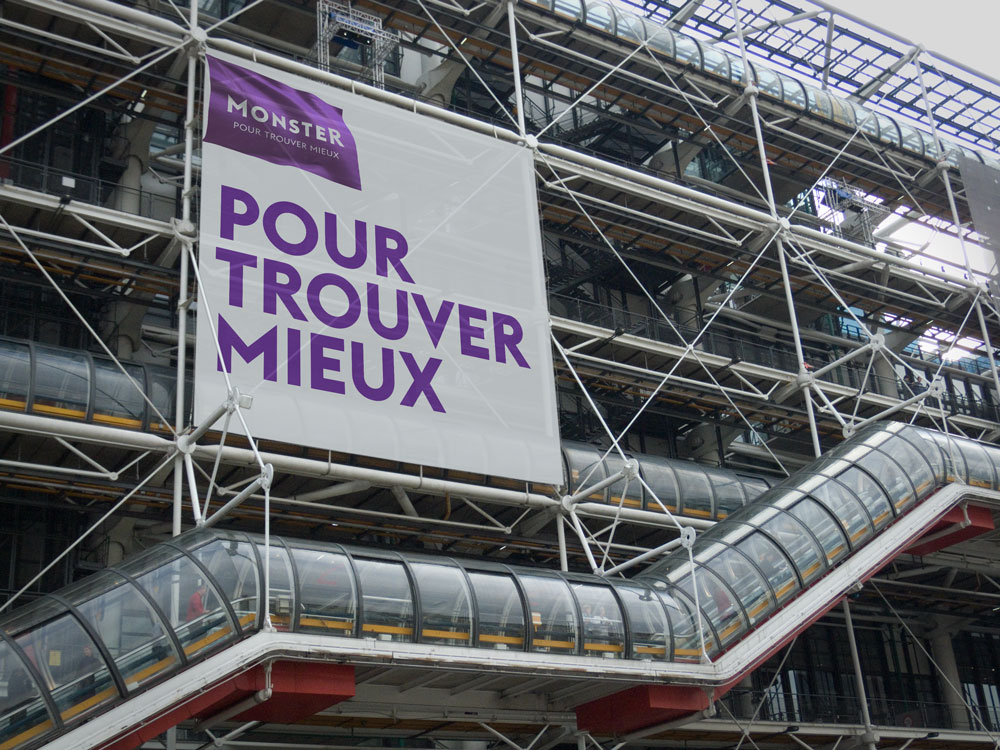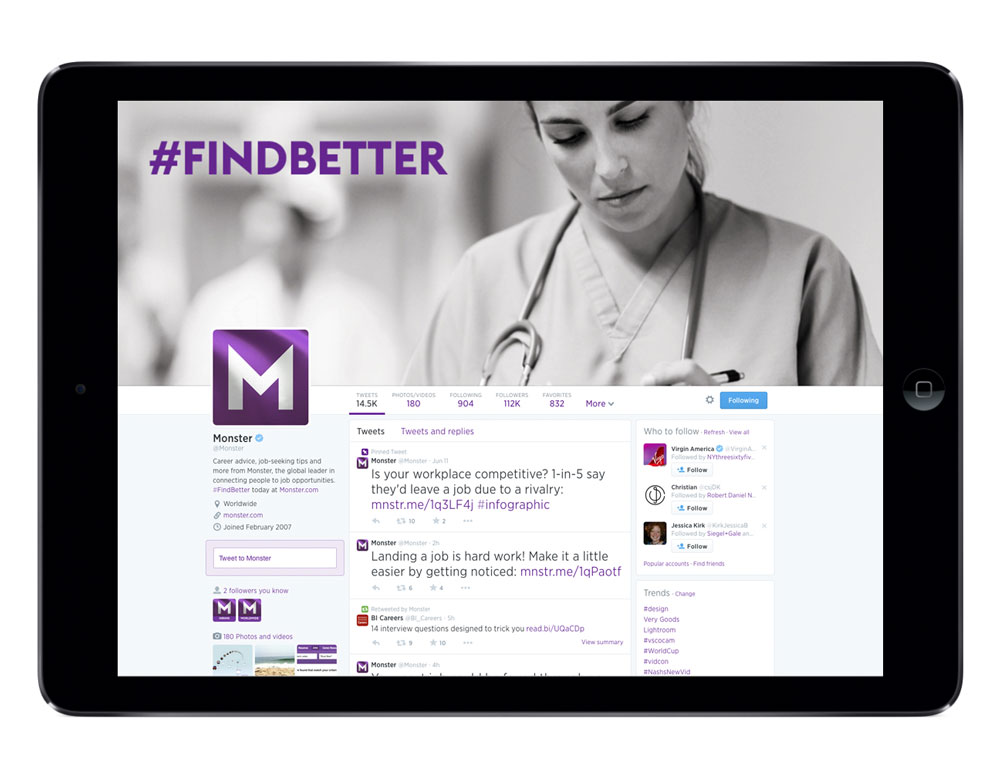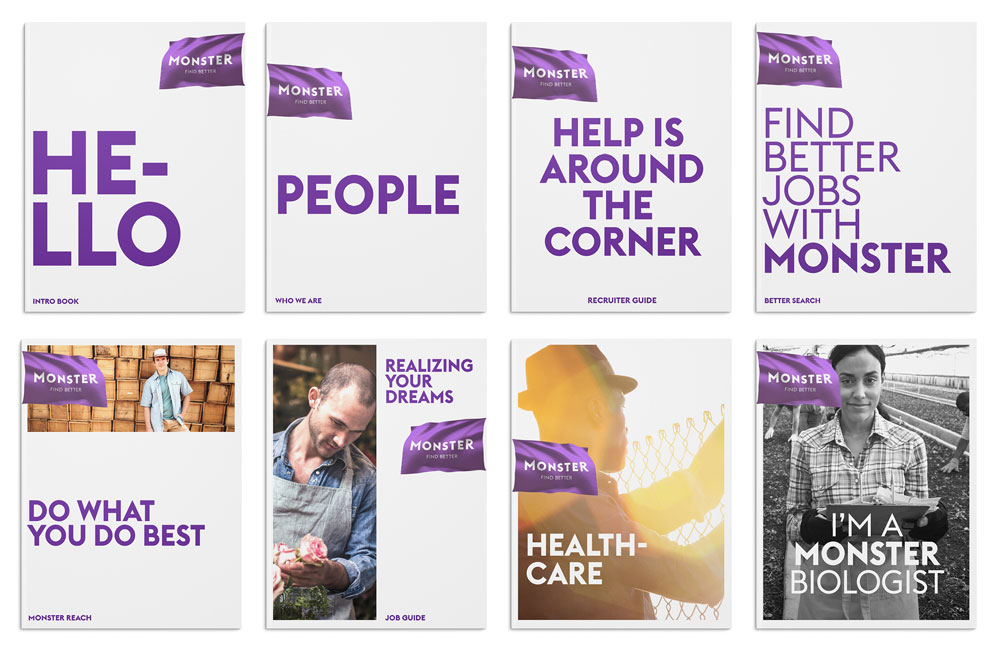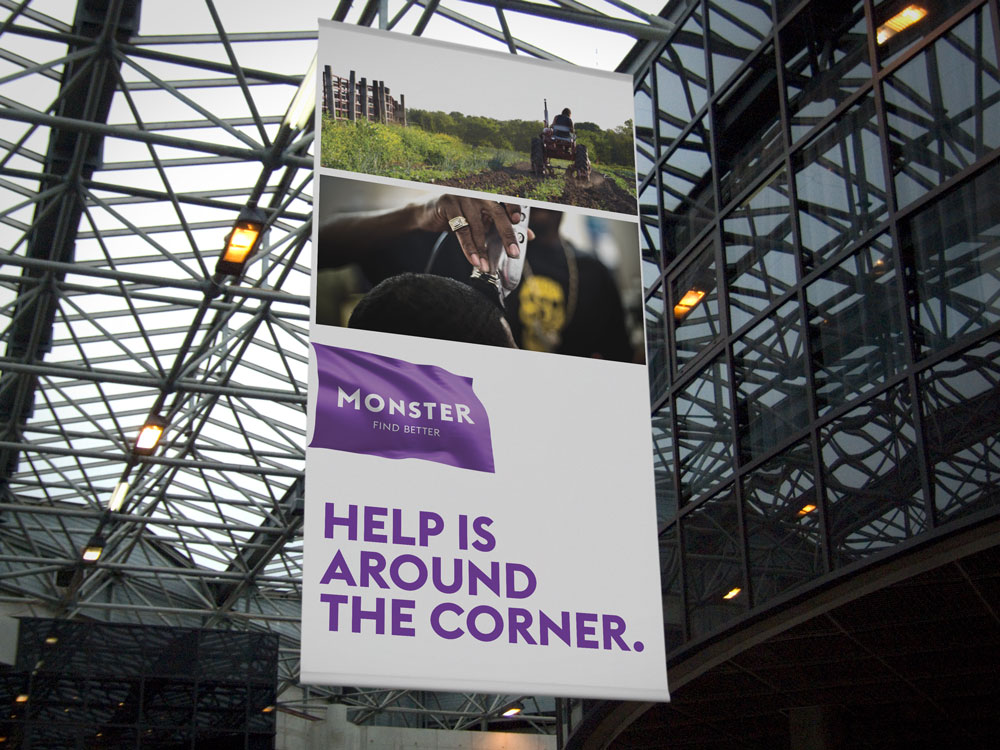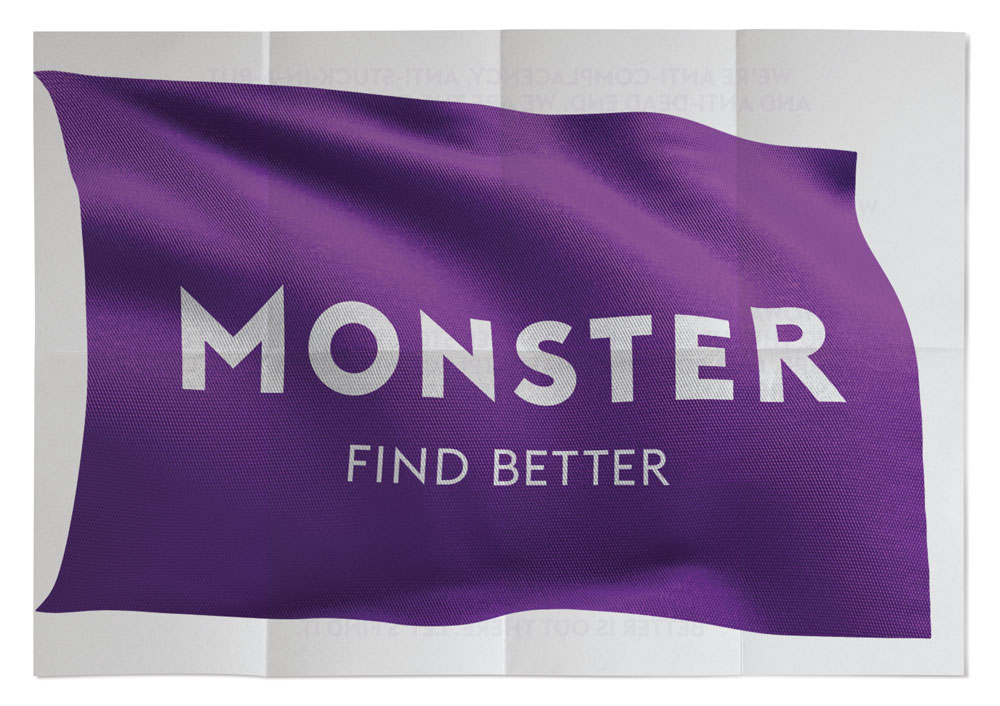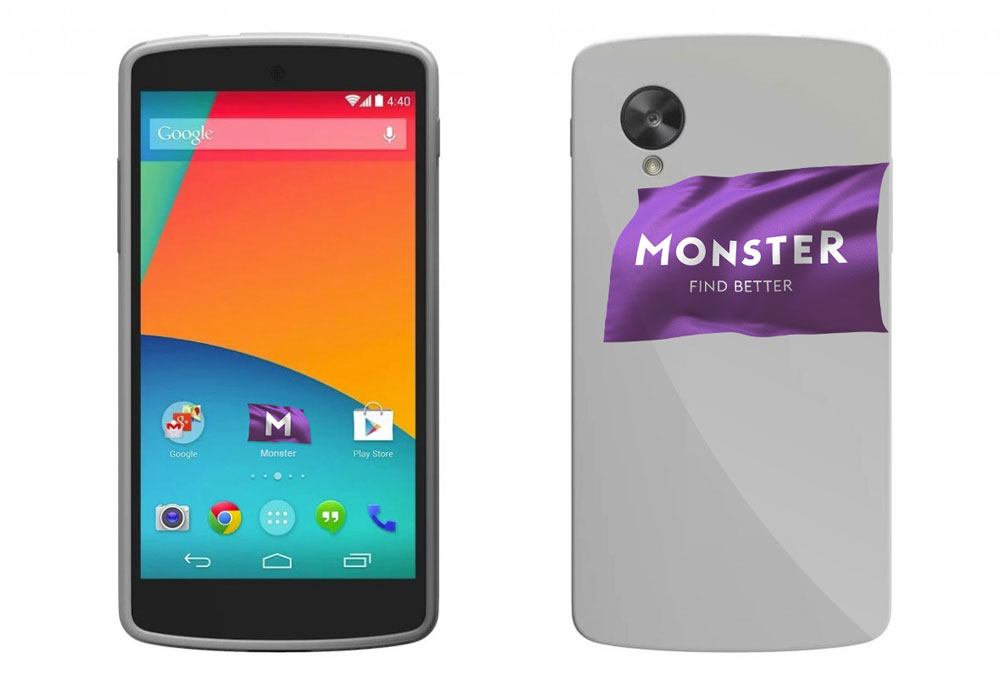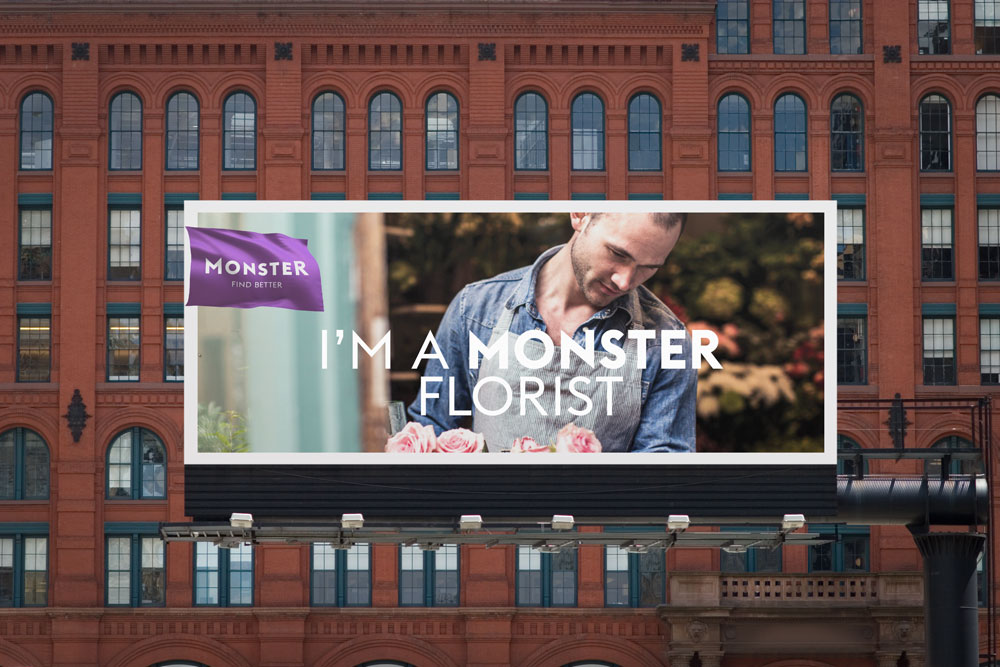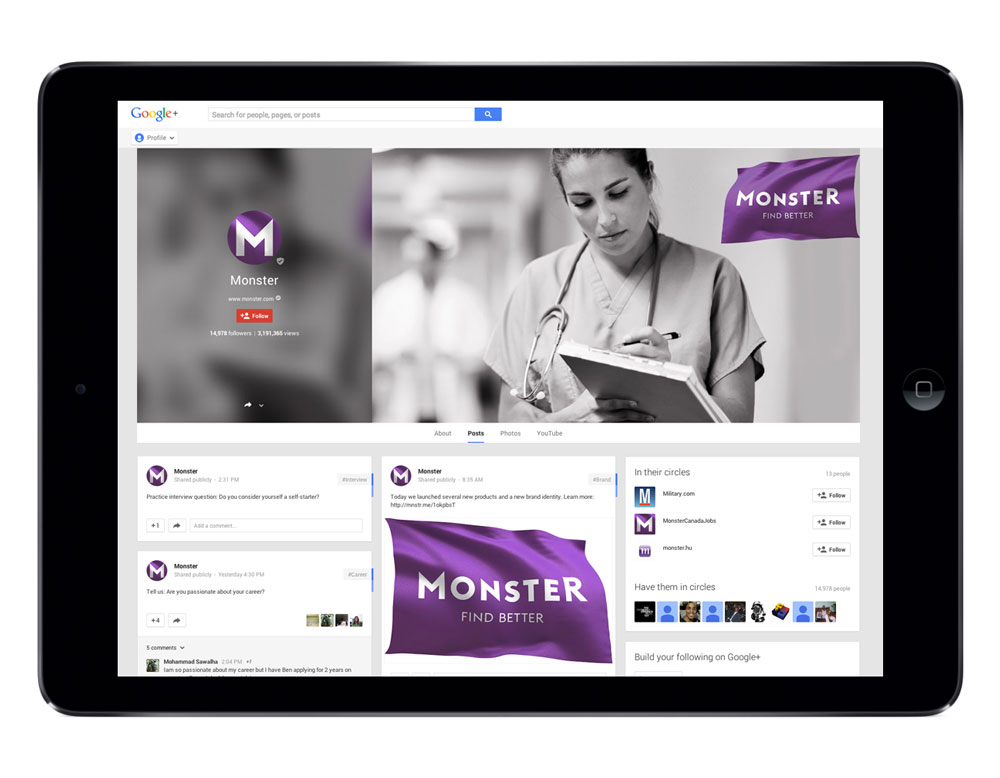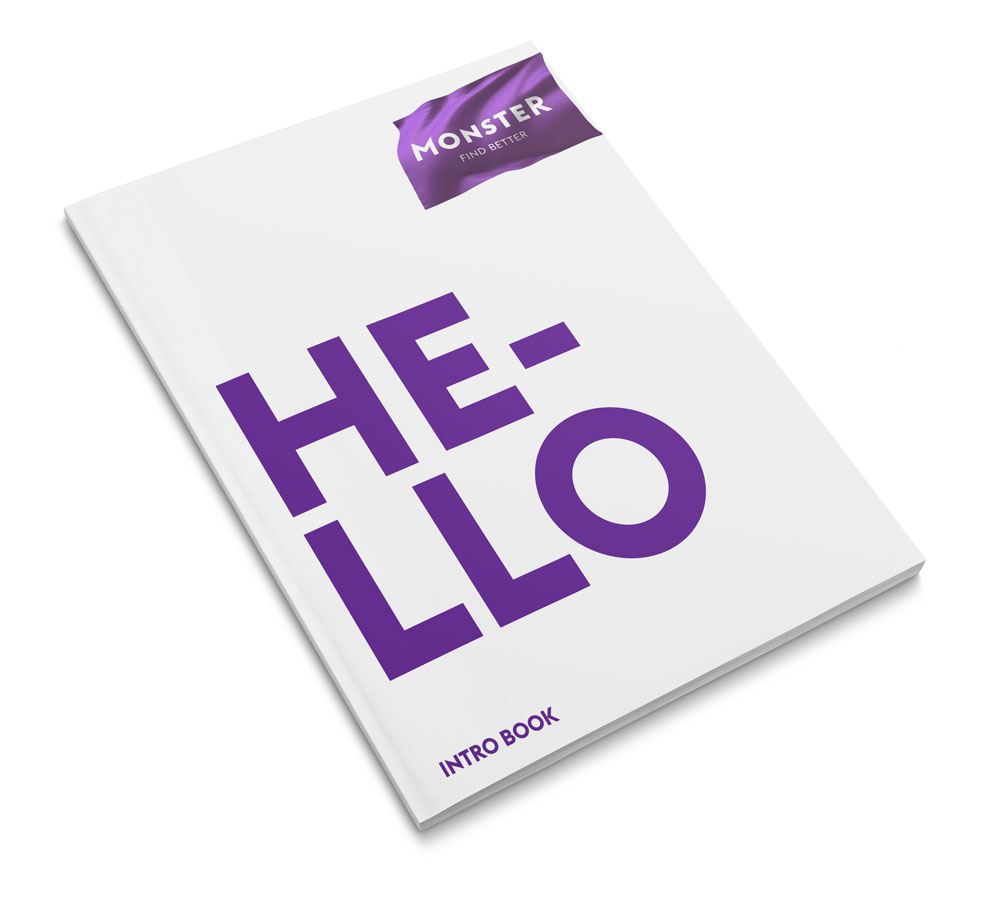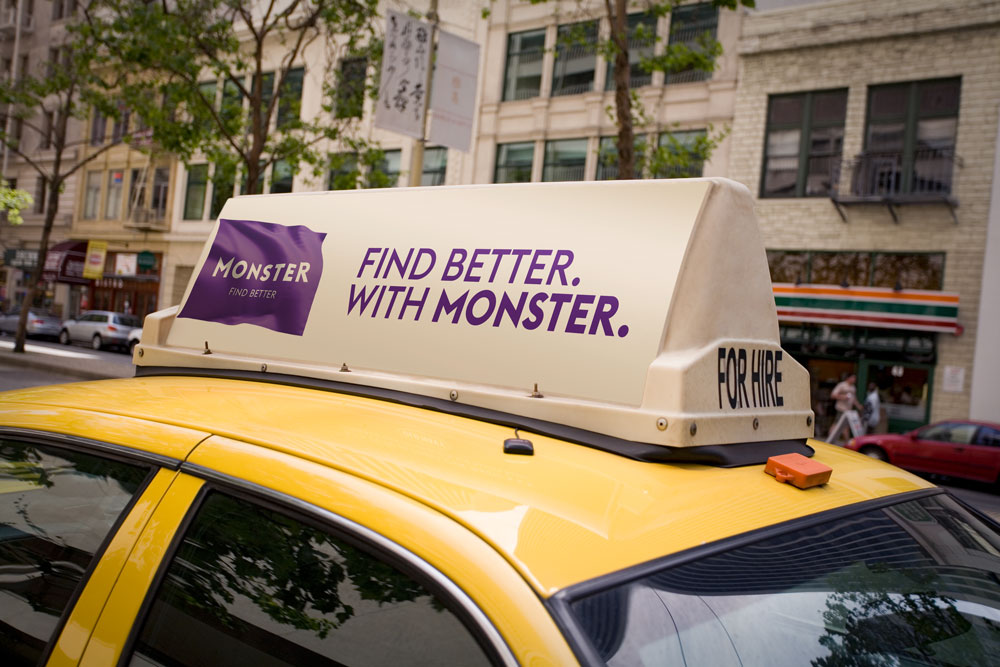 The results:
The rebrand strategy is an ongoing project and further results will be visible in the near future.
"Right now Monster are rolling out the new brand but it should ultimately affect a wide variety of touchpoints – how they organize their website, develop collateral, initiate sales conversations, organize their messaging, etc", explained Daniel Katz Golden.

"Another thing that changed as a result of the new brand architecture was that Monster got rid of branded product offerings.  No more products with their own logos, fanciful names, etc.  The focus of the story was how Monster has the Reach, Connections and Solutions to help you on your quest for better".
References: Direct information from global strategic branding firm Siegel+Gale, Monster Press Release
Pictures: Provided by Siegel+Gale and from Social Talent