Dior's latest video clip, Snapshot in L.A, proves how the classic luxury brand manages to find the perfect balance between tradition and modernity.
The ad reflects a new chapter in the collaboration between the Fashion house and the famous French actress Marion Cotillard.
As part of the new Dior "Enter the game" campaign, the video showcases the fall/winter 2014-2015 collection of the brand. Outside a modern Californian villa, we can see Marion Cotillard dancing to the hauntingly beautiful song she and Metronomy's Joseph Mount co-wrote, "Snapshot in LA". The result is both surprising and hypnotic:
I believe the video has an interesting twist that provides Dior with a fresher yet elegant image.  The brand is indeed portrayed as artistic, mysterious, and glamorous, but paradoxically also as a contemporary, surrealist, and simple.
Dior definitely demonstrates its mastery in brand building by keeping a perfect balance between a traditional heritage and the need to stay fresh and of-the-moment. Although some people might find the video a bit strange, I admire the fact that it is different from what we are used to seeing in luxury advertising. Also, the ad still preserves the brand, by reflecting Dior's classic values such as classiness and luxury.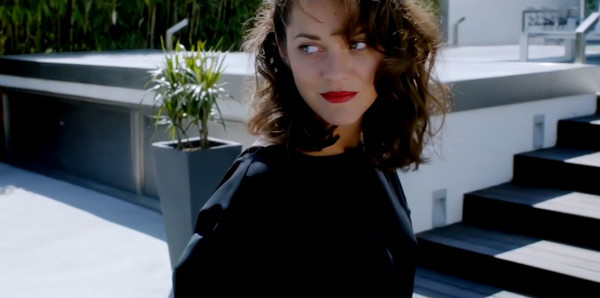 What do you think of this new video by Dior?
Do you think luxury brands take a risk by using surrealist effects in their communications?
References: La mode et la pub; Ursofrench
Pictures: screenshots from the video.