Name Change and Rebrand for Jaguar Land Rover Heritage
Jaguar Land Rover rebrands and renames its Heritage business to Jaguar Land Rover Classic in a bid to stay "current" with their target audience and position themselves as the number 1 in the classic car market.

1) Keeping it Classic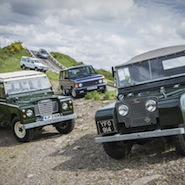 The Jaguar Land Rover brand is well known, well respected and hard to change.
But the brand needed to move on, it needed to be re-developed and it needed to sit within the Land Rover "family" to hold all of the richness the current brand stood for, whilst showing a more mature and experienced approach to this sector.
When the creative team have re-branded this element they've kept it simple.  They wanted to show a clear appreciation for their classic cars and a loyalty towards the owners of these types of models.
Their aim?  To emphasize prestige, loyalty and uniqueness.
2) Why Change
Just because cars become classics doesn't mean their branding does.  In an increasingly competitive market place it's important for companies to look for different opportunities and niches in which they can capitalise on and capitalise on these quickly.
Jaguar Land Rover have positioned themselves is to be able to accommodate the need and the demand for the classic car sector.
However, it's not all change as the classic brand will still be providing cars, services, parts and experiences to the owners of classic models or those with an interest in the classic models designed by the automaker.
But they are enhancing their brand by using their reputation to be able to offer extended services that others cannot, such as providing a catalogue of classic car parts, which have not been manufactured for decades.
3) Focused business strategy
This is an extremely focused business strategy and in some respects a strict one when it comes to creative.  Why?  Because they're building on their name and current brand stature and simply evolving this to sit better within the current market.  The brand architecture for this piece of work will be stringent and will sit under the hierarchy of the bigger Land Rover brand.
Having this level of consistency will allow the brand to change the way people in this sector view and appreciate the company offer.  It also sits more favourably with the 21st century, without compromising on the premium look and feel of again the overall brand image.
4) Driving toward success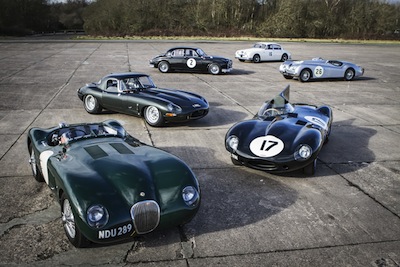 For a structured creative this is every marketing team's dream, to know exactly where your brand sits in the hierarchy, the architecture it is to follow and how to position advertising, TV ads, banners, logos etc.
For the brand in this sector… I would say also a success.  They're using the strong heritage of the brand wisely, whilst modernising it and focusing in on what they really want to offer and provide.
Quoted in Luxury Daily, Tim Hannig, Director of Jaguar Land Rover Classic, comments "Renaming the rapidly growing global business to Jaguar Land Rover Classic best reflects the division's overall capabilities in providing the best cars, services, parts and experiences for our customers. We aim to build an even more successful future by celebrating and nurturing Jaguar and Land Rover's past."
References: Luxury Daily, Rebrand
Pictures from: Luxury Daily