Carlsberg launches a male grooming line made out of beer
Carlsberg teamed up with cosmetic producer Urtegaarden to create a limited edition series of male grooming products: shampoo, conditioner and body lotion.
Carlsberg's Beer Beauty series
Unlike some brand extensions where the new product has no shared properties with the original one, Carlsberg shampoo really has Carlsberg beer in it. In fact, there is a half-liter of freeze-dried beer in each 250 ml bottle, mixed with organic ingredients in order to create a unique series of products: the Beer Beauty series.
"It is a fact that the main ingredients in Carlsberg lager – barley, hops & yeast – are rich in vitamin B and silicium – both of which are said to have beautifying properties for both hair and skin." explains the company.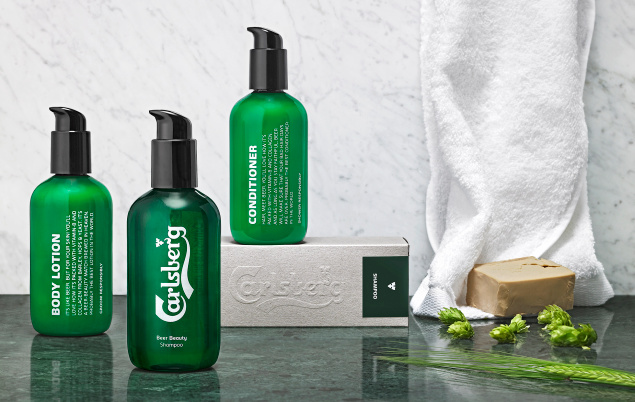 A survey conducted by Epinion revealed that 65% of men in the UK between 18 and 40 are daily groomers and half of the surveyed men are using their girlfriend's or wife's grooming products. The survey also revealed that 67% of Carlsberg consumers are willing to buy grooming products made of beer so they turned it into an opportunity to enter the cosmetic market with a new range of products made especially for men, with their favorite alcoholic beverage.
According to AdWeek, Carlsberg launched its line as a "humorous take on male grooming," but considers it a serious product. Studies have shown beer's ingredients are good for skin and hair, so this brand extension made sense.
For more information have a look at the video about the creation of the Carlsberg Beer Beauty line:
Why is this good branding?
Carlsberg takes a risk by entering a totally different market. The launch of this brand extension is provocative, but will raise conversation on the internet and turn Carlsberg into a brand that really cares about men, from what they drink to how they look like. The packaging is elegant, masculine and attractive and as women like to purchase products for men, this could turn into a very fun and original gift for their loved ones.
Some Fun Facts about Men and grooming:
The survey is conducted among UK men age 18-40
• 65% of UK men are daily groomers.
• 98% of UK men grooms at least 1-2 times a week.
• 58% of UK men spend more than 15GBP a month on grooming products
• 23% of UK men spend more than 35GBP a month on grooming products
• 40% of UK men use their girlfriends'/wives' grooming products on a weekly basis
• 43% of UK men who drink Carlsberg miss grooming products made especially for men
• 67% of UK men who drink Carlsberg would buy grooming products made from beer
References: Carlsberg's Official Website, Adweek, Marketing Magazine
Pictures from: Carlsberg's Official Website