Nina Ricci and Ladurée: a very interesting example of co-branding!
It is always interesting to see how two brands can team up and write a chapter of their brand histories together. Fashion house Nina Ricci and famous French pastry maker, Ladurée, have recently come together to create a scent inspired by macaroons and a macaroon inspired by scent.
La Tentation de Nina, a collaboration between a perfumer and a pastry chef
Is it possible to combine fragrance with macaroons? That was the challenge accepted by perfumer Olivier Cresp, fragrance director at Nina Ricci, and Vincent Lemains, head of pastry design for Ladurée, when they decided to bring their noses together.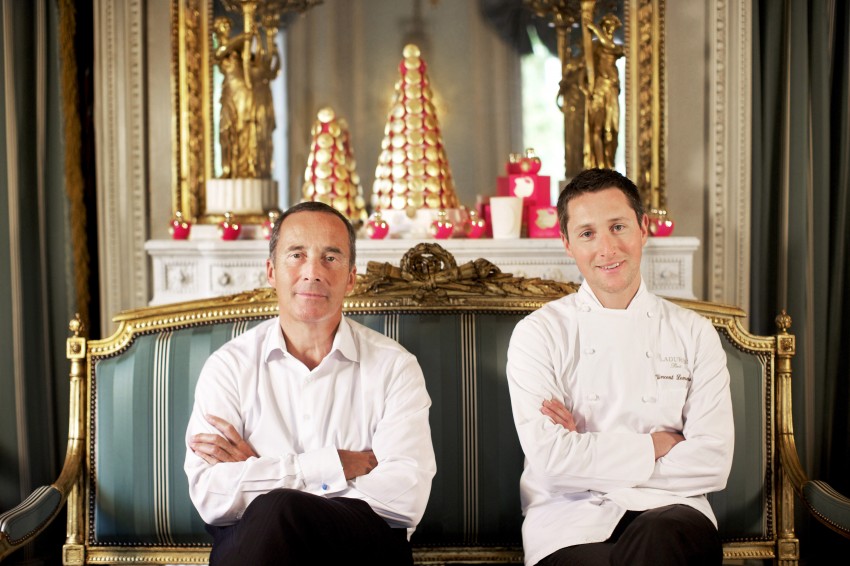 The two men worked for a long time to develop a new fragrance "la Tentation de Nina", which is a new limited edition of the original Nina fragrance from 2006, presented together with a new line of Ladurée macaroons named Nina.
"The most challenging aspect of creating the fragrance," said Cresp, "was to only use ingredients that could be used in the macaroon. In my palette, there are hundreds of fragrance molecules. In Vincent's, there are fewer [ingredients]. In addition, what is pleasant to smell and taste can be very different things." (Cited in Cosmetics Business)
The macaroon possesses aromatic notes of raspberry, rose, almond and lemon, presented in a bright pink shell topped with luxurious gold leaf.
The fragrance is presented in an apple-shaped bottle in accordance with the Nina range, customized with pink and golden colors. It possesses a fresh floral, fruity and gourmand fragrance. The website Fragrantica describes it as follows: "The composition begins with citrusy notes of bergamot and goes into the heart of raspberry, almond, lemon and Bulgarian rose absolute, which are connected together in the macaroon accord, softened by notes of Bourbon vanilla, white musk and sandalwood at its base".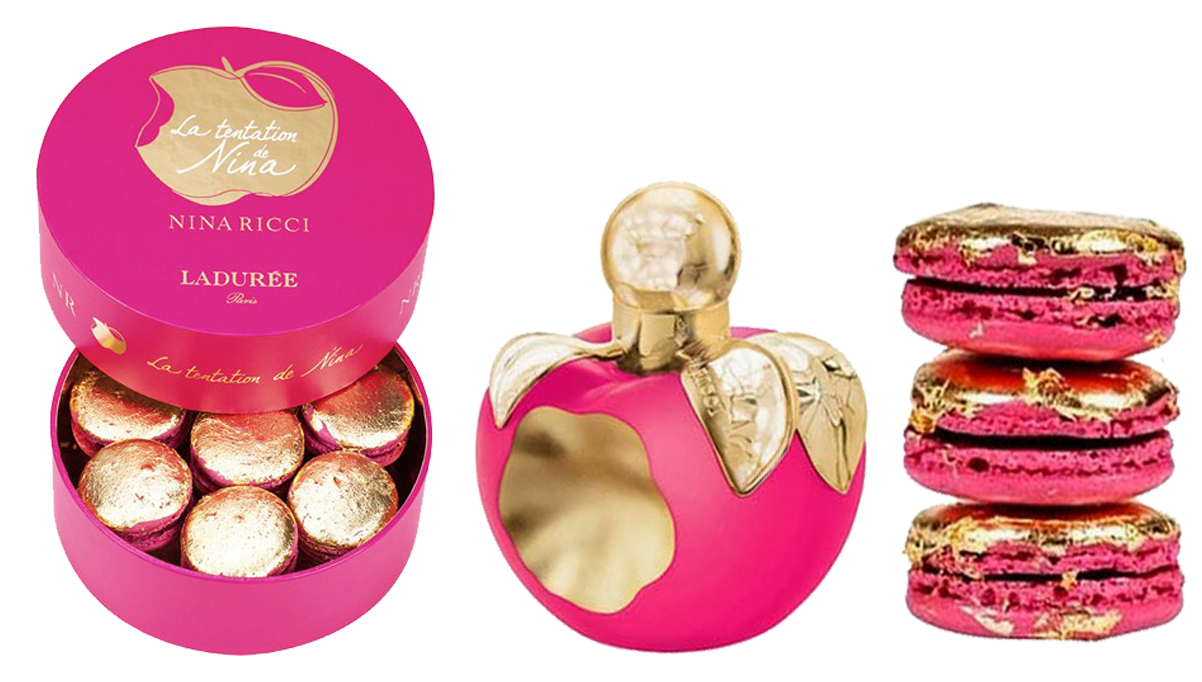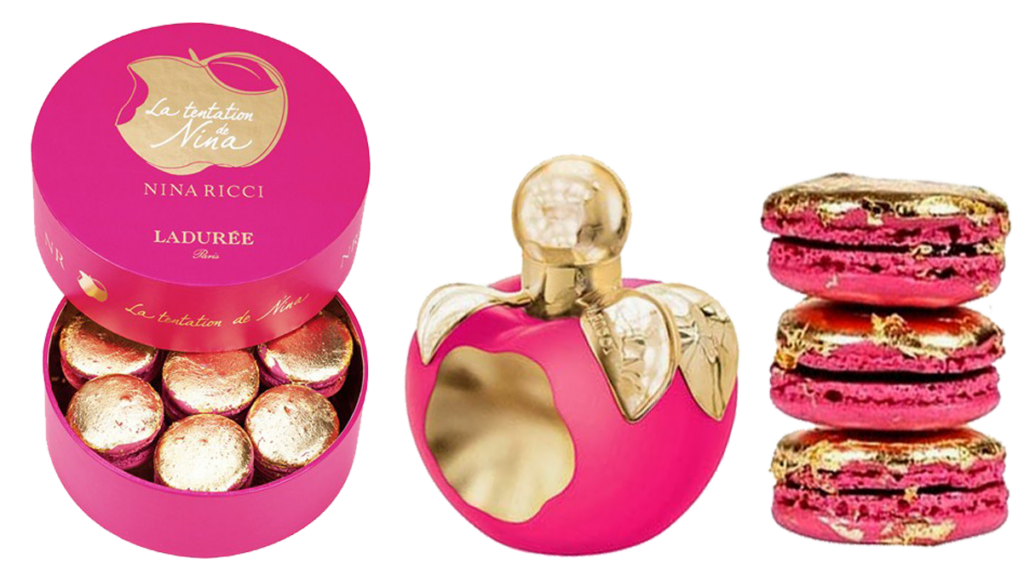 Nina Ricci and Ladurée, a profitable co-branding with a good communication strategy
The Nina range first launched in 2006, with a perfume created by Robert Ricci, son of Nina Ricci. The brand promotes this collection of fragrances around a feminine and enchanting universe, where the apple-shaped bottle represents the temptation of the forbidden fruit.
With this co-branding, Ladurée benefits from the poetic and magical storytelling of the Nina perfumes. Through the association with Eve's temptation, the macaroon thus becomes all the more alluring, simultaneously evoking playfulness and indulgence by its golden touches, which mirror the bottle design. By comparison, Ricci uses the prestige and sophistication associated with Ladurée macaroons.
The success of this collaboration can be explained by the association of two strong brand identities that each benefit from combining aspects of the other's world.
The collaboration also benefits from the combined experience and knowledge of Oliver Cresp and Vincent Lemains, whose individuals perspectives bring new expertise to both the macaroon and the fragrance. Both products were designed around the concept of "gourmandise": macaroons have always been seen as deliciously sweet treats, and the perfume bottle is designed to appear as if someone has bitten into the apple.
The co-branded products have succeeded in seducing many consumers by the sensorial experience transmitted through beautiful videos and prints within the communication campaign.
La Tentation de Nina launched worldwide on January, 27th priced from $66. The limited edition La Tentation de Nina macaroons cost from $27 for a box of eight, available from Ladurée's global network of stores since February.
References: I like content, Fragrantica, Luxury Partnerships, Cosmetics Business
Pictures from: Zoe Macaron, Die for Style