Will the Co-op's rebrand give them back their number one spot in the community?
Large UK supermarket chain, the Co-op, is undergoing a major rebrand in a bid to remind people that "community" is still at the heart of what they do. 
But can a brand which has simply been seen to shrink and sell off some of their major assets buy back their customer loyalty with a new look?

1) A history of community
The Co-op is steeped in history.  It is one of the oldest establishments and names around, yet over the years it has diminished in both size and appearance.  Over the years the Co-op have closed a number of their "super" stores and went back to their heritage and their roots of providing their "communities" with fresh produce – becoming more convenient once again.
So when a re-brand is announced everyone in the marketing world is interested to see to what extent – to play on community however, does this now show that there is a chance of the brand losing this element too, hence the drastic measure?
2) Reason for change
The main focus has been to remind people that its membership is core to the business.  Of course it is also there to help support their profits in what the Co-op are seeing as very testing times (an 81% drop in pre-tax profits was reported in 2015).
They want to go back to where they started and show that they are set up to cater for their communities what-ever that may be.   In these uncertain times it's a smart move to go back to your roots, take stock of what you have, where you've come from and what got you there.
The Co-op are not taking this lightly either.  They are embarking on a full rebrand which will see logos and designs change but also the company has committed to retraining its entire workforce on what has been reported in The Drum, on a "back to being Co-op programme".
3) Positioning strategy
Quoted in The Drum, Richard Pennycook, Chief Executive of the Co-op commented, "Big business is often accused of taking money out of communities – we are putting it back in as we champion a better way of doing business for our members and their communities".
What the larger retailers are finding is that they're struggling to attract loyal customers, customers want fresh produce at reasonable prices and have been put off with the price wars, conflicts and confusion the larger stores have created amongst themselves and have instead opted for the simpler approach of Aldi and Lidl.
This coupled with the Co-ops aggressive pricing strategy which they kick started last year – have they placed themselves in an ideal position to increase their profits quickly and regain consumer confidence in the brand?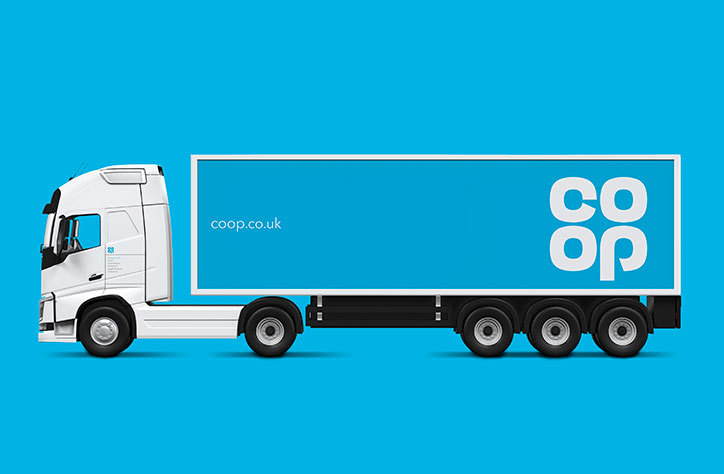 4) Reclaiming what they lost
The grocery sector is a tough nut to crack, as currently the mind-set of consumers is that they will shop with whoever stocks the freshest and cheapest produce.  And as the 4 major retailers all offer price comparisons consumers are free to jump from one to another with no emotional connection to any brand – no matter what their promises.
For the Co-op it will be how they get their message out to consumers that will be of the utmost importance.
"It's about getting back to what made it great. And therein lies the challenge. How many people will recognise it and remember Co-op's good old days? They're going to have to communicate that," said Simon Hathway, global head of retail experience at Cheil Worldwide.
References:  The Drum
Pictures from:  TheDrum.com, ManchesterEveningNews.co.uk, ItsNiceThat.com