Chocolate Meet Pint: When Carlsberg did Chocolate Bars
This year Carlsberg has capitalised on the Easter public holidays which has primarily been dominated by the confectionary market.  As their communication strategy moves up a gear we see the launch of "if Carlsberg did Chocolate Bars".

1) The new "if Carlsberg did" campaign
The slogan "if Carlsberg did" has seen a series of marketing communications launched over the years, helping to strengthen and position the brand in consumers' minds but to show the connection the brand has with its consumers.
Not only have they managed to do this again but they managed it with style and sass when they launched a giant chocolate pop up bar which was fixed to a wall of the Truman Brewery, Shoreditch for one day only.  (Blackjack promotions and Talon Outdoor were responsible for the physical build of the bar).
The ingenious idea of combining chocolate with a pint, was thought up by advertising agency Fold7 and Carlsberg's newsroom team, where they spared no expense with their one day stunt, pulling out all of the marketing stops with a paid media campaign run by media agency OMD UK and a strong social media strategy handled by The Marketing Store.
They also went the extra mile when it came down to the detail.  With a fully functioning chocolate bar, with a chocolate dartboard, chocolate bar stools and TV and of course to show that Carlsberg can indeed be part of the Easter celebrations, visitors to the pop-up pub were served a pint in of course, a chocolate Carlsberg glass!
2) Why Carlsberg chose Easter
Dharmesh Rana, the senior brand manager at Carlsberg UK, told PR Week: "Easter is a big beer-drinking occasion for our consumers and this year, we wanted to do something a bit different.
"We knew that the British public love beer and chocolate, so we're delighted to bring them together to create probably the best bar there could be.

"We pride ourselves on turning the ordinary into the extraordinary, and by creating a world-first chocolate bar, we feel that we've done just that."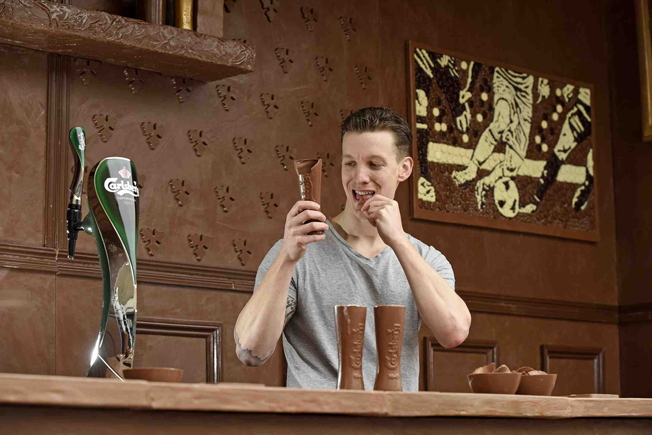 3) Impact on brand
With last orders being 5pm the Carlsberg bar was closed and those who were lucky enough to receive their free pint, could then relish in the tasty chocolate glass it came in – getting a real taste of the Carlsberg brand!
What Carlsberg achieved through this well timed campaign is yet another great way to improve their brand experience.  They're creating a great emotional connection with their consumers whilst also demonstrating how their marketing and branding strategies are completely aligned to complement each other.
So what's next for Carlsberg?  We don't know what they have planned behind those marketing doors, but what we do know is that it'll "probably be the best in the world…"