Back in the day, brands strived for stability. At that time, designers and brand strategists worked tirelessly in order to deliver an everlasting style guide. Things change, so as an approach to brands, relevance replaces stability. Today, companies launch trademarks in beta versions, transforming and improving them on the way. That's a call for an agile identity.
What is an agile brand identity?
Agile identities are adjustable; they adapt to different contexts, like a person adapts to social situations, such as a business dinner or a Friday beer with friends. However, a brand message remains unchanged. In fact, a solid strategic base and a distinct message make it easier for an identity to adapt.
Why are brands becoming more agile nowadays?
These days, consistency is an utopia. While brands practically belong to consumers, consumers belong just to themselves. They look for new experiences and power. Under these circumstances, CEOs, marketers and brand managers should set their brands free and, with a reasonable degree of control, transfer the reigns of power to a consumer.
New vs. old brand identity approach
1. Relevance vs. stability
Although stability positively affects businesses, it should never be a goal in itself. Moreover, brand managers should never turn into brand cops, patrolling brand guidelines and securing them from whoever decides to move beyond rules. In contrast, they should always proceed from a situation by asking themselves: is it relevant now, here, and for these people?
Example:
The brand identity of Casa da Música, a music center in the harbor town of Porto in Portugal, was inspired by a unique shape of the building. Sagmeister and Walsh developed a system where this recognizable, modern form transforms depending on the music and media.
"Our goal was to show the many different kinds of music performed in one house. Depending on the music it is filled with, the house changes its character and works dice-like by displaying different views and facets of music.
Sagmeister Inc. – Casa Da Musica Identity from Stefan Sagmeister on Vimeo.
2. Transformation vs. completion
An agile brand is never completed; it doesn't roll off a production line, assembled once and for all. Instead, it keeps transforming internally and externally, responding to all significant changes in the environment. It's always a beta version that never stops developing and improving, by finding new ways to communicate around the brand.
Example:
Moon Ice Cream, a Danish startup company specialized in molecular ice cream. The brand positions itself as being fun, tasty and innovative and targets a young audience and those who still believe they are kids.
The first logo of the brand showed a hand holding a moon on a cone (see the logo on the bottom left in the below image). Later on appeared a galactic cow as part of its brand identity, developed by On Foot branding studio. Eventually, the cow in a patriotic space suit gained the love of the target audience and took over the initial logotype.
"Although we started with a 'pathfinder' concept and an ice cream cone logo, a Danish galactic cow took over and became a key element of Moon Ice Cream identity."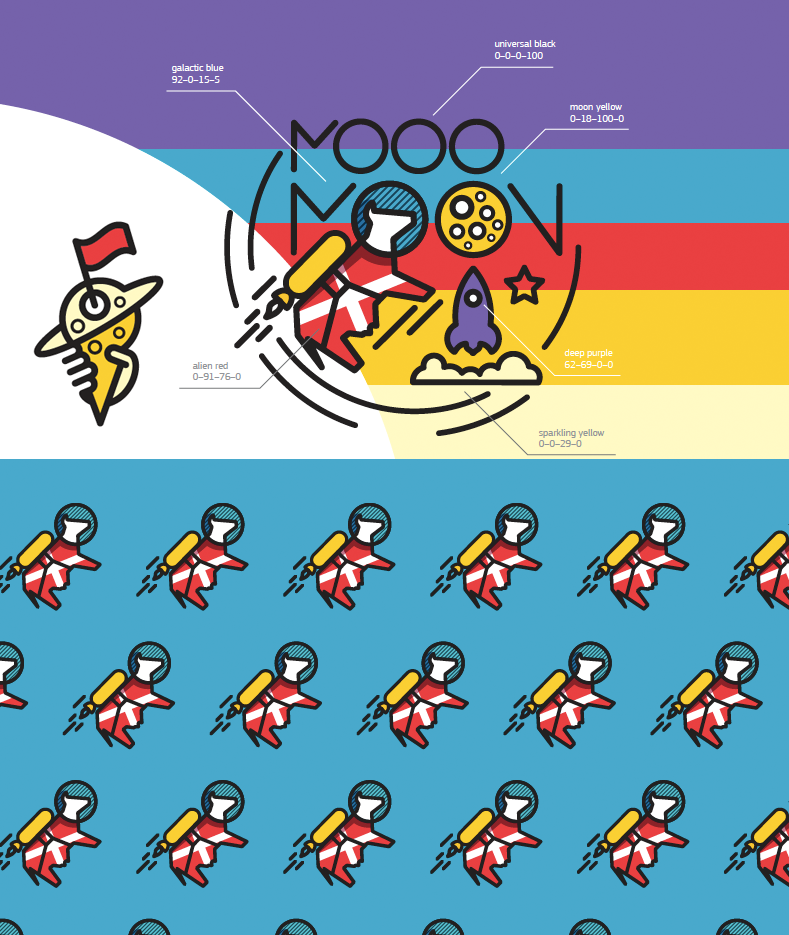 3. Principles vs. rules
Old-version brand books and guidelines are full of words like "always", "never", and "need". But stringent rules can be as dangerous as their full absence, as they restrain brand communications. Instead of writing numerous regulations, it's better to define clear and concise principles of brand identity usage.
Example:
AOL brand identity, developed by Wolff Olins, needed to signal that AOL was no longer just an internet service provider, but a future-forward, creative force that delivers unique and relevant content. In order to communicate this idea, Wolff Olins introduced the identity based on a stencil principle: a white logo can be embedded into any environment that acts as a contrasting background.
"Since AOL was all about its content, it needed an identity that could also act as a platform. So we created a simple, confident logotype that could be revealed by ever-changing imagery."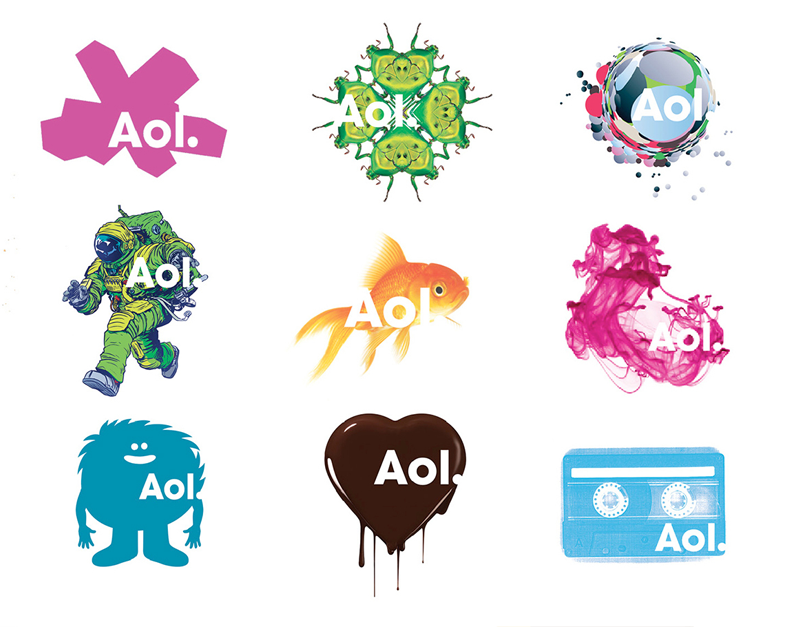 Conclusion
Identity with an open ending is a dynamic and flexible alternative to a rigid traditional approach. Agile brands perform best when having a coherent brand message and a solid strategic base.
References: Brand Matters. Siegel+Gale, The agile brand. Landor, AOL. Wolff Olins, Moon. On Foot, Casa da Música. Sagmeister and Walsh