The Way Forward: How the Circular Economy is Changing the Game for Brands
For decades, brands have followed linear models of business. Companies turn natural resources into products, which are discarded as waste once their usefulness expires. It's an unsustainable model that causes significant environmental damage, and it's quickly becoming outdated.
An alternative is the "circular economy." This is a system that allows companies to minimize or eliminate waste and pollution by keeping resources in a closed loop. While it's a relatively new concept, it's becoming increasingly popular with companies, environmental groups, governments, and consumers.
Shifting from a linear to a circular system involves fundamental business changes. Companies that make the switch may face initial challenges, but the long-term benefits for people, the planet, and businesses are enormous.
This article explores what the circular economy means for brands and why they should embrace this promising new way of doing business.
What is a circular economy?
Before we start digging into its benefits, let's look at the circular economy definition. The European Parliament's is simple:
"The circular economy is a model of production and consumption, which involves sharing, leasing, reusing, repairing, refurbishing and recycling existing materials and products as long as possible. In this way, the life cycle of products is extended.

In practice, it implies reducing waste to a minimum. When a product reaches the end of its life, its materials are kept within the economy wherever possible. These can be productively used again and again, thereby creating further value."[1]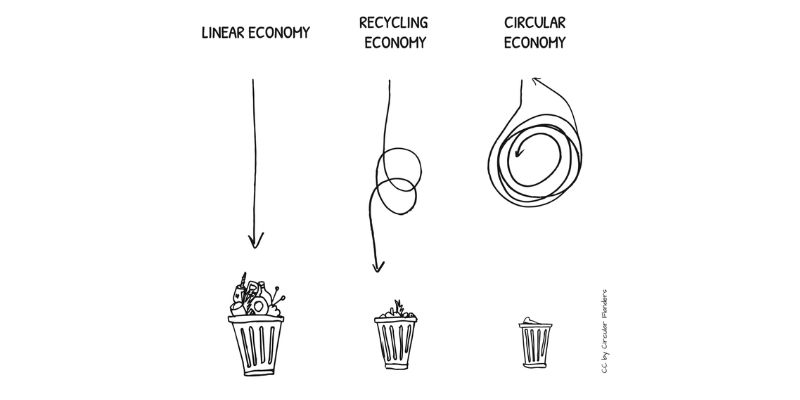 According to the Ellen McArthur Foundation,[2] a leading organization in this field, three fundamental principles form the circular economy:
Eliminate waste and pollution
Circulate products and materials (at their highest value)
Regenerate nature
The Foundation's video explains this concept in a simple yet effective way:
What's the connection between branding and the circular economy?
Branding is the process of building a brand, including developing a brand strategy.
A brand strategy is intrinsically linked to a business's overall strategy. It includes key elements that impact a business's day-to-day activities, such as:
The brand's purpose (Why are you here?)
The brand's vision (Where do you want to be in 5 to 20 years?)
The brand's mission (How will you achieve your mission?)
The brand's values and guiding principles (What does your brand stand for? How should it behave and act?)
The brand's positioning (How do you want your brand to be perceived, compared to the competition?)
The brand's promise (What are you going to deliver?)
The brand's products (Product and packaging design)
Circular solutions can impact a business in many of the same ways, including a company's philosophy, purpose, and values; its sourcing of raw materials; product and packaging design; production procedures; and even its chosen business model.
Since branding and circular solutions affect similar aspects of a business, they must be aligned to ensure a consistent business strategy. If a company starts implementing circular economy solutions, they must be incorporated into its core values and overall brand strategy. Likewise, if sustainability and corporate social responsibility are fundamental pillars of a brand strategy, then the circular economy can be a great way to implement these values and deliver the brand's promise to consumers.
For the alignment between branding and the circular economy to be successful, a company must be genuinely committed to improving its environmental impact. Paying lip service to circular solutions without positively impacting the environment is called greenwashing, which is unethical and dangerous for a company's reputation and brand image.
What are the benefits of the circular economy for brands?
Transitioning towards circular solutions can have immeasurable benefits for brands. The circular economy is an opportunity to:
1. Improve a brand's image and reputation
Transitioning to the circular economy allows companies to reduce waste and pollution and improve their environmental footprint. As society becomes increasingly concerned about climate change and environmental protection, the public positively views companies that choose sustainable solutions.
Embracing the circular economy can significantly improve a brand's image and reputation, indirectly increasing its value (also known as brand equity) and shielding it from potential scandals.
2. Ensure a brand adds value to society by contributing to sustainable solutions
Many consumers believe that companies are just as responsible for implementing positive change as governments are.[3] This means that brands can no longer afford to focus solely on consumers; they need to address communities and the environment as well. Shifting to a circular economy is therefore a viable way to implement a commitment to green solutions and sustainability.
3. Capitalize on product innovation
Innovative design is a pillar of the circular economy. Everything counts – from choice of materials to product functionality and production processes. Within a circular system, the challenge is avoiding waste generation and pollution from the beginning of the design process onward.
Product and packaging design plays an equally significant role in branding. Brands can capitalize on circular solutions to offer innovative solutions and improve their products and packaging. It's a huge opportunity to provide groundbreaking products or services that are more valuable and stand out from the competition.
The following quote from the Ellen McArthur Foundation expands on this:
"Design has the power to be transformational, and those at the forefront of change are demonstrating this. Some are reinventing how we deliver everyday products, eliminating the need for plastic packaging on cosmetics and homecare by developing solid formulations and liquid concentrates with dissolvable membranes. Others are developing new service models that ensure household tools can be borrowed, electronics repaired, and clothing circulated. To spark the emergence of new systems, design interventions are required in every sector, from the way we make and use things, to the design of infrastructure and policies that enable products and materials to circulate in the economy."[1]
4. Staying ahead of the competition
Brands with strategies focused on the circular economy are moving ahead of competitors still attached to the linear economy. By choosing to transition early, companies have higher chances of becoming leaders in an economy bound to evolve.
In addition, the circular economy gives brands room to innovate. Innovation is an excellent way for brands to offer their customers something unique, making their products or services more valuable than their competitors'.
5. Optimize costs and resources
Supply costs continue to increase for industries consuming increasingly scarce raw materials. Added to that is the expense of waste management.
Thankfully, circular solutions can reduce, or eliminate, the need for raw materials and resources. Instead, it allows companies to upcycle existing materials and refurbish existing products. By choosing the circular economy, companies can reduce spending on raw materials and waste management while positively impacting the environment.
Optimizing costs and resources allow brands to:
Reduce their impact on the environment.
Decrease their dependency on resources such as materials, water, and energy.
Save costs and reinvest this money in other aspects of the brand or business.
Become more competitive and robust over time.
It's a win-win system.
6. Seize new business opportunities (and reach new types of consumers)
Consumers worldwide are adjusting their lifestyles and purchases in an effort to live more sustainably.
"75% of global consumers feel that environmental sustainability is as important or more to them now than it was last year. Additionally, 66% of consumers rank sustainability as one of the top five drivers behind a purchase decision – up from 50% last year.", says the Global Sustainability Study 2022 by Simon-Kucher & Partners. [5]
Customers who care about the environment and their carbon footprint are increasing, and brands that reduce waste and pollution emissions have a higher chance of attracting them.
Choosing circular economy solutions can also reveal new markets. For example, brands can merge into the second-hand market by re-selling refurbished products. Another example is switching to a rental business model, where several customers lease and use items. This business model provides brands with new customers and motivates companies to offer high-quality, long-lasting products.
Lastly, the circular economy is based on cooperation between different sectors and industries. This type of collaboration promotes new inter-economic partnerships and the growth of the brand's professional network over time.
7. Increase customer loyalty
A reputation as an environmentally-responsible company is also a powerful way of retaining existing customers. Customers who care about environmental issues are more likely to remain loyal to a brand that's decided to go green.[6] If a brand and its customers share similar values and commitments to sustainability, they're more likely to bond and connect emotionally.
Transitioning to the circular economy is also an opportunity to engage with the brand's customers in new ways. For instance, if a brand offers product repairs, customers will likely become loyal, long-term customers. This is a solid opportunity to build strong bonds and increase customer satisfaction, which can, in turn, lead to new sales.
Another way that circularity can boost brand loyalty is through refills. Food or cosmetic brands that offer a simple way to refill their products in stores (sometimes at a cheaper rate) are encouraging customers to stay loyal to their brand while contributing to the reduction of single-use packaging. Again, a win-win solution for everyone.
8. Increase employees' satisfaction and commitment to a brand
An increasing amount of people are looking for jobs that give a meaningful purpose to their lives. According to a US McKinsey study:[7]
"People who live their purpose at work are more productive than people who don't. They are also healthier, more resilient, and more likely to stay at the company. Moreover, when employees feel that their purpose is aligned with the organization's purpose, the benefits expand to include stronger employee engagement, heightened loyalty, and a greater willingness to recommend the company to others."
Shifting to circular solutions is a powerful way to attract and retain talent committed to sustainability. Employees will feel a deeper connection with the brand they work for and show a higher commitment to meeting the organization's economic and ethical goals.
Key takeaways
The circular economy is a production and consumption model focused on eliminating waste and pollution, circulating products and materials, and regenerating nature.
Branding and the circular economy can impact similar aspects of a business strategy and are intrinsically connected.
Embracing the circular economy is a powerful way for brands to meet their sustainability goals. It can also provide numerous side benefits, including better brand image and reputation; product innovation opportunities; a competitive advantage; cost and resource optimization; new business opportunities; and increased customer loyalty and employee satisfaction.