Procter & Gamble brand, Max Factor, are introducing scannable apps onto almost 500 of their cosmetic products, providing tailored content and reviews in an instant.  Claiming to be revolutionising the digital and retail space with this new technology, have the global brand just cemented themselves in the top position for the sector?
1) Rationale
It doesn't matter which sector you operate in, the words technology, digital era, apps etc. surround it and they're only getting bigger.
Through their research into this move, Max Factor found that women had a tendency to use their mobile phones at point of purchase to validate their decision making.  And speaking to Marketing Week, Laure Murciano, global brand manager at Max Factor, commented that while 70% of women research online before buying beauty products in-store, 90% of purchases still happen offline.
"With this innovation we're putting the shopper at the centre and making the Max Factor brand interactive. We identified that women do a lot of research online when it comes to the beauty category. Only 10% actually make the purchase online, which means 90% of those women are going to the store and we lose them between the online and offline world," she explained.
2) The importance
By identifying with their customers, Max Factor are able to identify a need and provide a solution to help fulfil this.  It also helps them to extend their brand relationship and focus on those 90% of customers which they've identified.
The reviews, product information and tutorial videos which are downloaded from the apps will be available for customers even after their purchase has been made.  Extending the brand in such a way connects with the customer and in this sense, the emotional relationship is built.  This is also very hard to break, so in return can potentially yield that customer a lifetime customer of their products.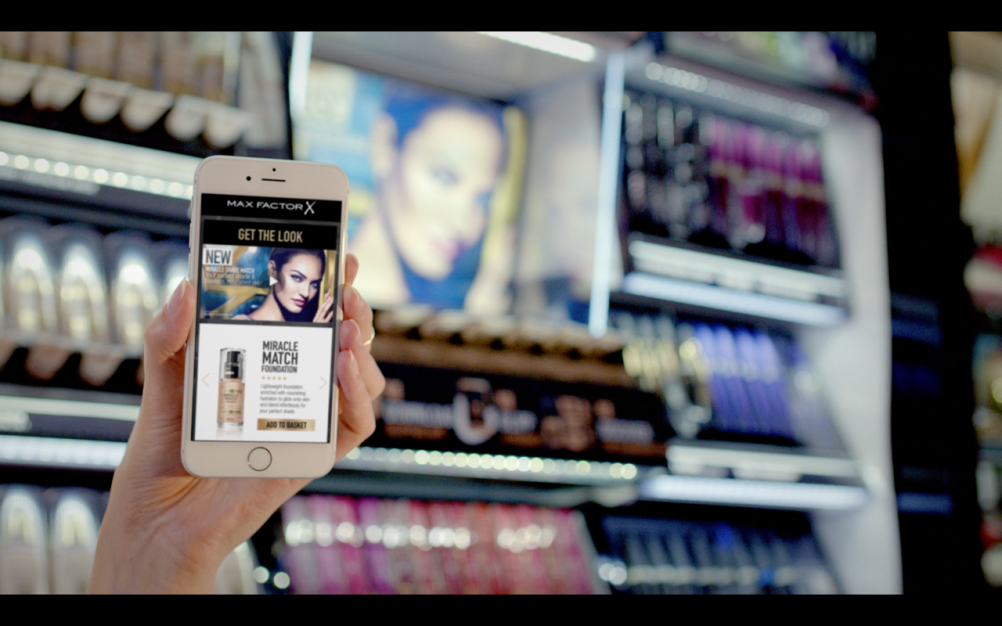 3) The app itself
At the point of purchase, customers will be able to see unbiased ratings and reviews, as well as have access to offers and vouchers available.  Using customer behaviour and external factors to tailor make the app for them.
Quoted in Retail Times, Murciano goes on to say "with perfectly targeted content, we'll drive a strong preference for Max Factor, increasing customer loyalty."
Max Factor will also be linking this new technology with their advertising campaigns, having the scannable apps also available to download – reaching a much wider audience.
4) Big for brand, big for business
Max Factor are one of the first cosmetic brands to introduce this to the market, so it will be a trial to see what the results prove.  However, to show that they're innovative, adaptable and customer focused this is certainly the best way to strengthen their brand affinity.
Of course it also allows the brand to market to the customer through their mobile.  But P&G were quick to inform customers that they will not be holding any personal data and they will simply be using algorithms to support their marketing push.
As we said from the start, advancements in technology are only going to continue and in today's busy world, anything that can help to make our lives easier is more than welcomed.  Building a brand based on this knowledge will only help it align itself with the direction in which our world is going.
Concluding, "I'm proud to be the first brand to switch on all our entire product portfolio and many of our in-store touch-points," says Murciano. "This is ground-breaking not only for the category, but for the whole shopper experience. We have started a revolution."
References: Retail Times, Marketing Week
Pictures from: Marketing Week