We are very happy to interview ethical branding expert Charlotte Holroyd. Charlotte currently runs Creative Wilderness, which is an independent, ethical branding & design agency in the UK. She kindly accepted to share with us her vision on ethical and sustainable brand strategy practices.
Interview
Hi Charlotte! Thanks for your time and for accepting this interview with us. To start the interview, we would like to ask you to please introduce yourself and tell us more about your background?
I'm so excited to chat to The Branding Journal! I run Creative Wilderness, which is all about creating soulful brand experiences with sustainability in mind. After working in design for 10 years, I knew I wanted to shape my life around these values – so I took the leap to start my own sustainable and ethical design agency, Creative Wilderness.
Today, my work through Creative Wilderness is about staying true to ethical design agency principles – where collaboration, communication and the happiness of my clients means everything.
When I'm not designing I'm usually drinking a Matcha tea, hiking in the hills, practicing yoga and spending time with people I love.
What made you become an Ethical Brand Strategist?
I've always been passionate about sustainable and ethical living and often became frustrated when working at big design and advertising agencies with the waste, lack of environmental focus and general 'head over heart' centered ethos. So when I made the decision to start my own agency I knew I wanted to work with people who shared my passion for making the world a better place. I guess I live and breathe these values so it feels very natural for me!
How would you define Ethical Branding and why it is important?
Ethical branding is about thinking beyond just your profit, and considering the impact your brand has on the world. I mean this in both a physical and moral sense. For example if you are a beauty brand then is your messaging positive, encouraging and inclusive? Are your products focused on helping and empowering? Your brand voice and visuals all come into this along with the overall experience people get when interacting with your brand.
Ethical branding involves thinking deeply and authentically about every aspect of your brand and where people come into contact with it. If anything is amiss then you will lose trust. An example of a bit of a brand disconnect is a recent sustainable backpack I purchased which was made from reused plastic bottles. I researched into finding something sustainable and ethically made and finally made the purchase, however was deeply disappointed when this backpack arrived in plastic packaging! This is an example of not considering every single element of your brand experience. The experience made me think that this "sustainable" company was more about the trend than the actual values, and 'greenwashing'.
Also it's so important to think about how your brand is making people feel. Ethical brands should come from a place of good and not manipulate or encourage people to buy through fear, inadequacy and manipulation.
Finally, from a practical point of view ethical branding involves considering the impact your brand has on the world. From choosing sustainable packaging options and suppliers and reducing your waste, to supporting your community and good causes.
Overall ethical branding is about building meaningful relationships and trust with customers through thoughtful brand experiences.
How to you see the connection between branding and corporate social responsibility?

It's vital for brands to actually give back. Most consumers want to see businesses offset the harm or waste they produce. It's no longer a case of having pledges on your website, people want real evidence. There's now a great opportunity for brands to use their voice to support and encourage diversity. Teaming up with likeminded social interest groups or looking into ways of helping through your production line all help to tell a great story behind your brand. I've seen ethical clothing brands partner up with charities in India to provide women with work which supplies a living wage. Then when purchasing these products you know you are using your money to make a difference.
I see more and more brands carbon-offsetting, really looking at their supply chain, using re-cycled and re-used materials and encouraging people to send back old items to be re-used and re-cycled as opposed to throwing them away.
Can you tell us a bit more about your clients and their main needs?
My clients are fairly varied but all have the core beliefs of a strong purpose, desire to make a positive impact on the world, and to maintain sustainable and eco-friendly standards throughout all that they do.
Generally they've got to the point where they want to grow and appear more professional or impactful and really start to think deeper about their brand strategy. Lots of businesses are started organically, with a great idea and passion and then once they start to grow they then realise that their branding and design is possibly holding them back or they feel a disconnect with it. They are jaded and exhausted with trying to DIY it or search for cheap and bad quality online options!
Could you give us an example of an ethical branding strategy you've designed recently and what were the main challenges and outcomes?
I've recently worked on a re-brand for Zero Waste Path. They strive to maintain zero-waste and vegan values and we found it very hard sourcing plastic-free, biodegradable packaging items. I had the idea to use Japanese Washi tape made from rice paper as a way of bringing their shipping boxes to life and adding a branded element to their deliveries. Unfortunately the supplier no longer printed in the UK so we had to search for an alternative, which was very hard to find!
It's a big challenge finding ethical print suppliers and ensuring sustainable standards on smaller scale projects. A lot of printing comes from China where ethics are questionable. Cruelty-free ink and glue is also hard to source at good prices, and recycled paper options, biodegradable packaging, although more common can be hard to find for smaller businesses.
It's also difficult to do everything yourself and I'm lucky that the brands I work with truly understand the value that a well crafted brand experience can have on the growth and success of their business.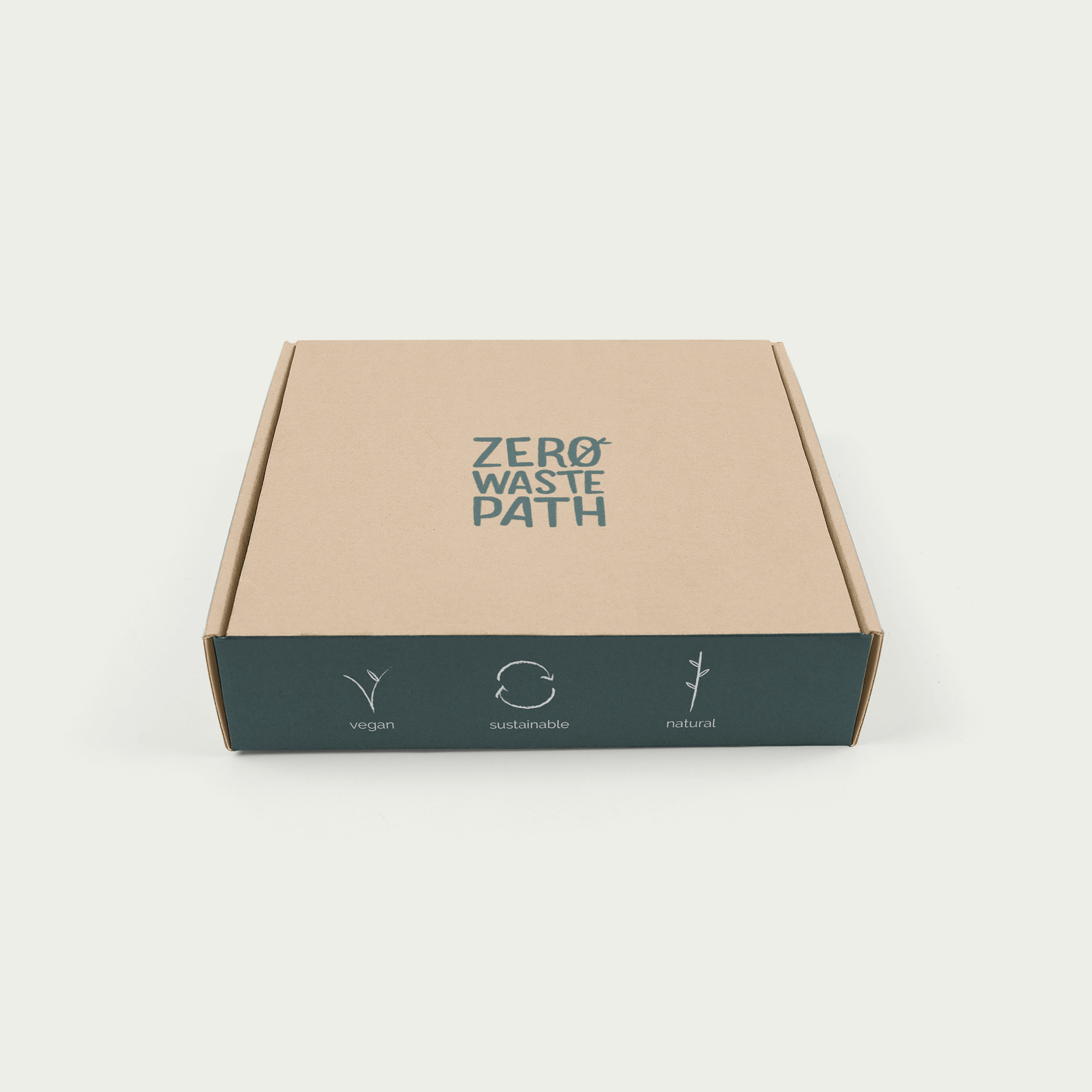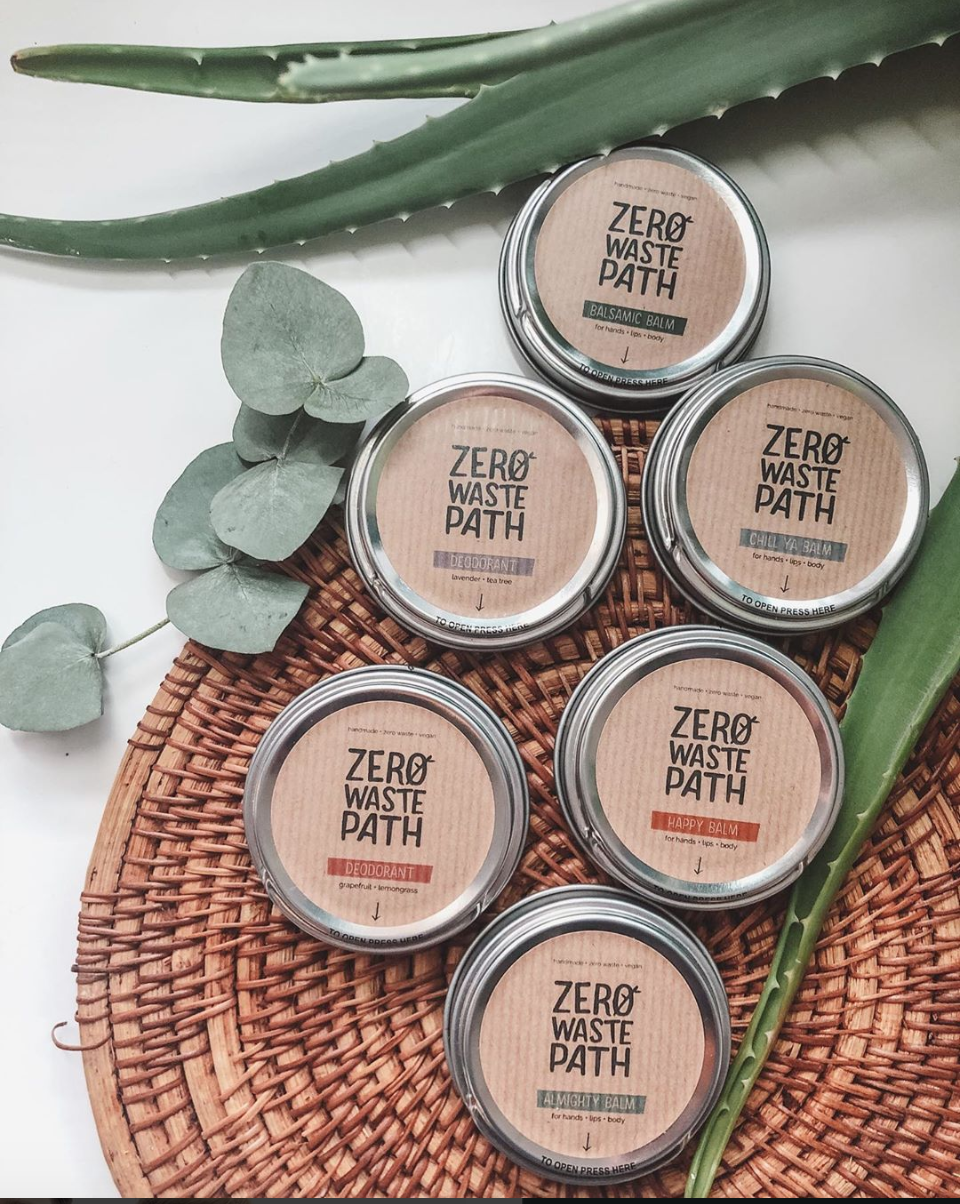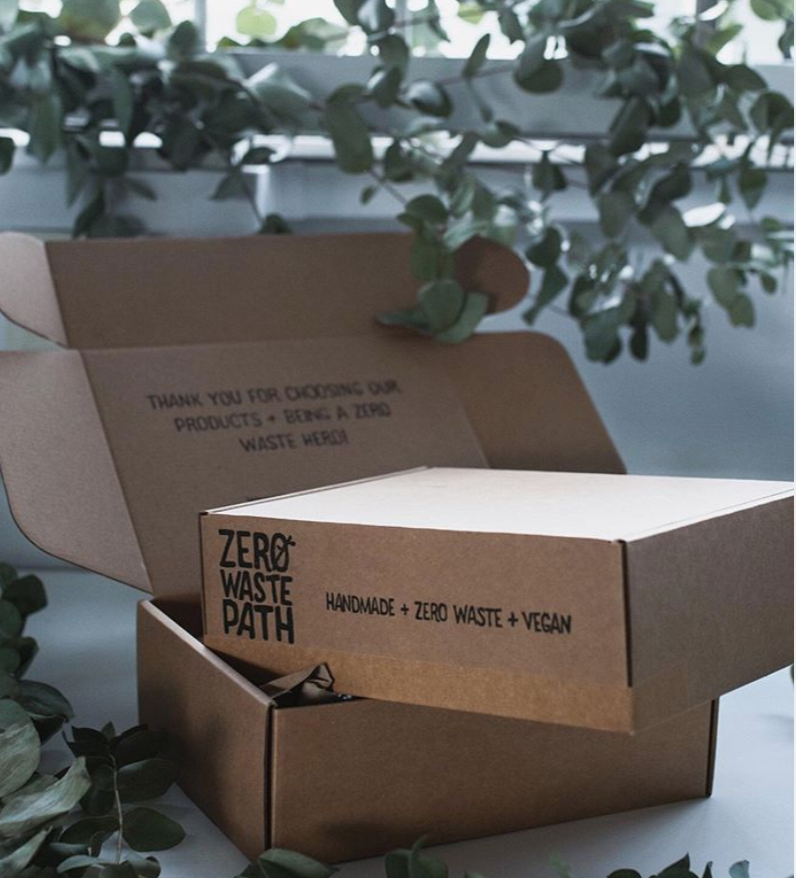 What are your 3 favorite ethical brands and why?
I'm a little biased as 2 of my favourite ethical brands I've also worked with! I think working with them really demonstrated how much heart and soul and dedication they put into their brands and since working with them I'm now a loyal customer and am constantly recommending them to my friends.
The Kind Store: I love how every single one of The Kind Store's products has been carefully chosen. You can be fully sure that not only are the products incredible quality but also they are completely cruelty-free and sustainable. Tash the founder really understands how branding helps to elevate her brand and she has built a loyal following that knows everything she promotes is great for our lives and also for the planet.
Zero Waste Path: every single element is considered in regards to ethics and sustainability, from packaging, ingredients to using reclaimed items in their Warehouse. Zero Waste Path truly encapsulate how to run a sustainable business. They also have found clever ways of applying branding to create an iconic brand without compromising on quality. Oh and their products are amazing and using them I feel like I am cutting down on waste and making a difference.
Wardrobe Wellbeing: Camilla runs Wardrobe Wellbeing which is an incredible conceptual lifestyle brand. She looks at how people can re-wear clothes they already own and offer wardrobe wellbeing consultations. She has amazing style and her tips show how we can be more conscious around our clothing. She also has a Wardrobe Library where people can hire occasion dresses, wedding dresses and more instead of unnecessary buying something to just wear once. I love her fashion tips, the personality she brings to her brand and the change she is making.
What would be your #1 advice to business owners or marketing strategists wishing to be implement ethical practices at the core of their strategies?
To make sure it comes from the heart, it's so hard to convince people of your mission and stay true if you don't truly believe in what you do. So take time considering your purpose and your mission and the impact you want to have on the world. Once you've defined that then you can start to make small and large changes.
A good place to start is looking into your suppliers, from banking, web hosting, printing to the people you work with. Can you support independent businesses for your business meetings? You can look into donating some of your profit to a local charity or allow your staff to volunteer. There are so many great ways to give back! For example every earth day I hold a community event, last year was a Litterpick this year is flower bombing. I've also seen businesses donate materials, a printing company I know gave their spare paper to a local teenage art group.
Your top 3 tips for business owners wishing to have an ethical brand?
To really think about your whole brand experience in order to stand out and demonstrate the purpose and passion behind your products.
To take risks and carve your own path instead of copying those who have been before.
To listen to your inner voice when making decisions and stay true to your core brand ethos.
How do you see the future of brands?
I see sustainable and independent brands growing as we become more and more tired of the corporate homogeneous offerings that care little about the people or the planet. People are becoming sick of fast-fashion and products and the emptiness they feel when they purchase them.
Brands will become more diverse and unafraid to show their personality. The mantra of attracting everyone is no longer relevant as people really think about whether a brand fits with their general ethos.
Personally, the ethics behind a brand, and the way it visually speaks to me, and if I feel an affinity to the brand, is a big factor in my decision making.
I also think we will be looking for more quality yet fewer purchases. So it's even more important for brands to start to think deeply and exude quality as we want these purchases to be meaningful and not a wasted experience.
A last word you'd like to add?
I'm really hopeful that our future lies in small, independent and conscious brands who are making our world a better place. Be a brand that is empowering and not exploiting, one that has a positive impact on our planet.
Many thanks for your time and insights Charlotte! We wish you all the best and are looking forward to our next collaboration!
About Charlotte Holroyd & Creative Wilderness:
I'm Charlotte the founder of Creative Wilderness. I love to collaborate with forward thinking brands. I've had over 10 years in the design industry working at big agencies on brands. I bring this 'big agency' experience to help independent businesses.
I've always been passionate about ethical businesses and made the leap to start my own sustainable and ethical design agency with a focus on ethical living, sustainability and generally working with people whose business excites me and is going to make the world a better place! I've recently worked on impactful rebrands for ethical pioneers including The Kind Store, Zero Waste Path and Lucky Cloud Skincare. I work hard to remain true to my ethical design agency ethos and use suppliers that are renowned for their sustainable mission (my printers are vegan and vegetarian society approved and ethical banking and energy).
I keep everything digital to reduce paper wastage and deal with clients around the world using Skype and digital tools to communicate. I donate a portion of my profits to City of Trees who are transom my local city and planting trees in unloved areas. I also run Conscious Entrepreneurs @consciousmcr which offers an alternative to soul-sucking networking events, where sustainable and conscious business owners are inspired, empowered and connected.
I also focus on all the little day-to-day things and avoid plastic and general waste – I use KeepCups and re-usable water bottles and support local suppliers, travel on public transport and cycle to meetings.
For more information about Ethical Branding:
Read our article: Ethical Branding: How to Create More Ethical Brands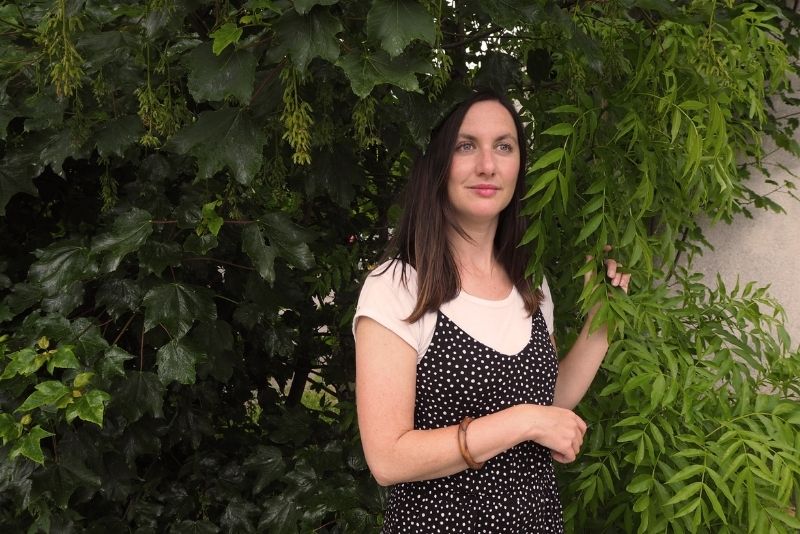 About our Interview Partner
Charlotte currently runs Creative Wilderness, which is an independent, ethical branding & design agency in the UK.

Contact information:
Website: www.creativewilderness.co.uk
E-mail: hello@creativewilderness.co.uk
Social Media: @creativewilderness