Mazda to Focus on Brand Management to Increase Long-term Growth
The major car brand has seen a decline in sales at the start of 2016 and with the bigger picture looking even flatter, Mazda has decided to focus their brand on the future. 
With a new CEO in place, the company's focus is very much on brand management.  Believed that it will be this that will drive them to long term growth and success.
1) Taking the brand under control
Sometimes brands can be forgotten about, left behind, not managed correctly.  Without anyone really knowing this can have a huge impact on a growing business.  Your brand is who you are, we can't stress this enough.
The stronger your brand, your brands position and your ability to manage this in-line with your target audience, the more success as a company you can achieve.
For Mazda their new brand management strategy is what their top chiefs believe to be their key to long-term success.  Not just in the US but globally.

2) What will change
Their focus.  Drive.  Their connection to their customers.  According to the new CEO, Masahiro Moro "we have changed to emphasize brand and product values to customers to emphasize brand-value management".
The advantage of building on the value of their brand and making it clear that this is their focus is that it then becomes the key driver for sustainable competitive advantage.  It allows companies to extend their brand into new products, markets and channels much easier.  This is due to the trust and loyalty that can be built through brand communications.  It allows people to build up a relationship with you, an association and connection.  They can relate to your brand values and identity and hence buy into your new products with much more ease.
3) Taking it's time
Bearing this in mind it should come as no surprise that brand has become the company's primary focus.  With their global share of automotive sales less than 2% – the company has also attempted to overhaul its entire product line-up.  Expanding its offering, cross segmenting and placing itself on a higher pricing platform.  Their brand has to play a key part in this.
However, Mazda were making these changes without having their brand-value management strategy in place first.  It should then come as no shock that sales were still down by 8% in the first half of 2016.
Moro will admit that after the Great Recession, Mazda's strategy had been to focus on increasing volume and achieving sales through growth at nearly any cost.
4) Lessons learnt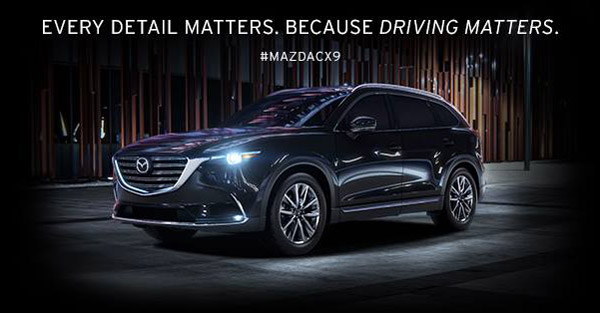 Like any business lessons have to be learnt.  In this instance Mazda have come back sharp with their renewed vigour for the brand.
For example, the new CX-9 is now widely available to see and test drive in showrooms throughout the US.  Mazda are exploiting the premium materials, amenities and technology with the model to begin to leverage its brand out of the mere mainstream of the US auto-market and into more luxury territory.
5) Customer focused
Now Mazda's brand strategy focuses on their target audience and how they can achieve their corporate strategy and their sales, whilst also meeting their consumer's needs.
Their philosophy is "how to keep customers coming back to Mazda".  Moro went on to comment that "Now we are focused on how to take care of the customers throughout the ownership cycle.  It's a big shift in mind-set".
One of the biggest lessons that Mazda has learnt is that you can continue to evolve your product but it takes a long time to change consumer's perceptions.  Consistent brand messaging is key to help support this.
Mazda's brand-value management strategy will go a long way once embedded throughout the organisation.
References:  Brand Channel
Pictures from: Good Logo, Brand Channel, Latest Auto Logo